Dr. Ferrario Published in the Journal of Neurosurgical Anesthesiology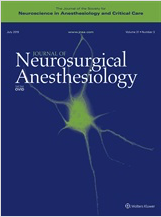 The Journal of Neurosurgical Anesthesiology recently published an editorial by Lara Ferrario, MD, entitled, "Standardized Accreditation of Neuroanesthesiology Fellowship Programs Worldwide: The International Council on Perioperative Neuroscience Training (ICPNT)". The full article is available here. Congratulations, Dr. Ferrario!
One of the factors spurring the continuous worldwide evolution in the field of anesthesiology and its subspecialties has been the need to adapt to the demands of increasingly specialized surgical disciplines. Transformational innovations underway in neurosurgery and neurology especially affect and include neuroanesthesiology, which is similarly innovating to support advances in neurosurgery and interventional neuroradiology. A well trained neuroanesthesiologist in the 21st century must be capable of managing complex procedures in the surgical suite and neuroradiology department, while being knowledgeable about neuromonitoring, neurocritical care, basic and applied neurophysiology, neuropharmacology, and cellular and biochemical neuroscience.

Ferrario L, Kofke WA. J Neurosurg Anesthesiol. 2019 Jul;31(3):267-269. doi: 10.1097/ANA.0000000000000605.