Frank Trzaska, CAA, Appointed Assistant Chief AA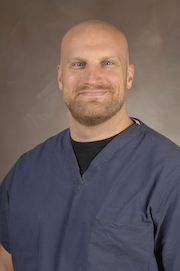 The Department of Anesthesiology is pleased to announce that Frank Trzaska was recently appointed Assistant Chief Anesthesiologist Assistant. In this role he will help build the CAA schedule and serve as a member of the CAA recruitment team. In addition, Frank will help manage the CAA staffing needs for the department and operating room, as well as help resolve personnel and staffing issues. Most recently, he served as a member of the CAA advisory team.
Frank has been with the department for over 7 years as a Certified Anesthesiologist Assistant. He graduated from the Master of Science in Anesthesia program at Case Western Reserve University in Houston and trained at Memorial Hermann—Texas Medical Center.