DIY 3-D Face Shields Address PPE Shortages for OR Anesthesia Teams
George Williams, MD, helped facilitate an inspiring effort to address the shortage of PPE in the anesthesia group at Harris Health LBJ Hospital by developing a "do-it-yourself" face shield to protect anesthesia teams in the OR. The design uses a 3-D printed headpiece with tabs which align with the holes of a 3-hole punch. Plastic transparency sheets, such as those found at office supply stores, can be affixed to the headpiece thus creating a protective shield between the wearer and the patient.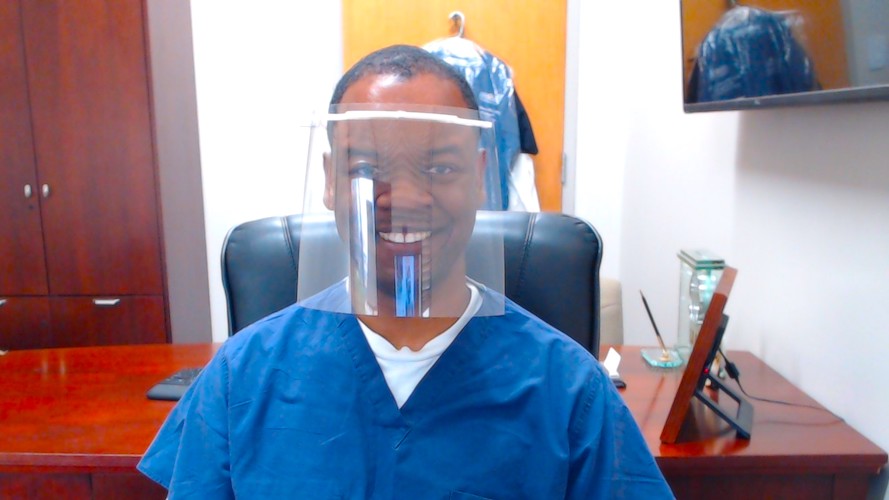 With concerns over the virulence and spread of this pathogen and the issues facing adequate supplies of effective PPE in the clinical setting, innovations such as these are invaluable to keeping our healthcare workers safe. A very special thanks to Barbara Stoll, MD, Dean of McGovern Medical School, Michael Blackburn, PhD, Executive Vice President and Chief Academic Officer at UTHealth, David Volk, PhD, with the Institute of Molecular Medicine at UTHealth, and Brijesh Gill, MD, with the Department of Surgery at McGovern Medical School, for their support.
You can access Dr. Williams' how-to video here for more information on making your own face shield.
If you would like to read more about this wonderful effort, click here.