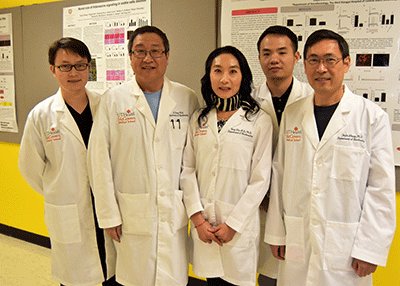 When people return to high altitudes following a short break, their bodies do a better job of acclimatizing to the reduced oxygen levels and now a research team led by biochemists at The University of Texas Health Science Center at Houston (UTHealth) believes it knows why.
"Our research shows that oxygen-transporting red blood cells appear to remember how to acclimatize in reduced oxygen situations," said Yang Xia, M.D., Ph.D., the study's senior author and a professor of biochemistry and molecular biology. "While we knew rapid acclimatization occurs upon re-ascent, we weren't sure why."
The study was conducted in conjunction with the AltitudeOmics Research Team at the Altitude Research Center at the University of Colorado Anschutz Medical Campus. Findings appear in the journal Nature Communications.
High altitude sickness or acute mountain sickness can occur when people who live in lowland areas travel to elevations of about 8,000 feet or more. Its symptoms may include headache, nausea, and loss of appetite.
"From bench to bedside, erythrocyte (red blood cell) memory drives high altitude acclimatization," said Holger Eltzschig, M.D., Ph.D., John P. and Kathrine G. McGovern Distinguished Chair, associate vice president for Translational Research and Perioperative Programs of UTHealth and interim chair of the Department of Anesthesiology.
Xia's team analyzed blood samples donated by 21 college-aged volunteers who made two trips near the top of a Bolivian mountain. The researchers found that the volunteers' oxygen-transporting red blood cells went into high gear quicker on their follow-up trip. Mt. Chacaltaya's elevation is about 17,800 feet.
"We identified a molecular pathway that triggers the elevation of adenosine, a chemical that speeds blood flow and triggers oxygen release by red blood cells," said Xia, a McGovern Scholar at UTHealth. "Our discovery could lead to new treatments for high altitude sickness."
When a person travels to high altitudes, his or her body downregulates a protein called eENT1 that is found on the surface of red blood cells, which in turn triggers the rapid accumulation of plasma adenosine, Xia said.
However, the acclimatization benefits of re-ascent are short lived because the body typically replaces all its red blood cells every 120 days or so, she said.
"These findings add significant new insight to our understanding of molecular mechanisms of adaptation to hypoxia under physiological and pathological conditions and thereby open up novel therapeutic avenues to treat and prevent hypoxia," the authors wrote.
The researchers confirmed their findings in a genetic mouse model. When the researchers knock out the eENT1 protein in a mouse model, it leads a rapid accumulation in plasma adenosine in low oxygen situations.
The study titled "Erythrocytes retain hypoxic adenosine response for faster acclimatization upon re-ascent" was supported by National Institute of Health grants (HL119549, DK083559, HL113574) and U.S. Department of Defense (W81XWH-11-2-0040, W81XWH-10-2-0114).
UTHealth co-authors include lead author Anren Song, Ph.D.; Yujin Zhang, Ph.D.; Leng Han, Ph.D.; Hong Liu; Kaiqi Sun; Jessica Lee, Ph.D.; Harry Karmouty-Quintana, Ph.D.; Takayuki Iriyama, M.D., Ph.D.; Tingting Weng, Ph.D.; Shushan Zhao, M.D., Ph.D.; Wei Wang, M.D., Ph.D.; Hongyu Wu, M.D., Ph.D.; Rodney Kellems, Ph.D.; Michael Blackburn, Ph.D.; Eltzschig; Mikhail Bogdanov, Ph.D.; William Dowhan, Ph.D.; and Jianping Jin, Ph.D.
Co-authors from the Altitude Research Center at the University of Colorado include Angelo D'Alessandro, Ph.D.; Travis Nemkov, Ph.D.; Andrew Subudhi; Andrew T. Lovering, Ph.D.; Sonja Jameson-Van Houten; Colleen Julian; Kirk C. Hansen, Ph.D.; and Robert Roach, Ph.D. Hong Zhang, M.D., Ph.D. of The University of Texas MD Anderson Cancer Center also contributed to the study, as did Gennady Yegutkin of the University of Turku in Finland.
Blackburn, Dowhan, Karmouty-Quintana, Kellems and Xia are on the faculty of The University of Texas MD Anderson Cancer Center UTHealth Graduate School of Biomedical Sciences. Blackburn is one of two deans at the Graduate School as well as the William S. Kilroy, Sr. Chair in Pulmonary Disease and John P. McGovern Graduate School of Biomedical Sciences Endowed Distinguished Professor at UTHealth. Blackburn is also the executive vice president and chief academic officer at UTHealth.
---