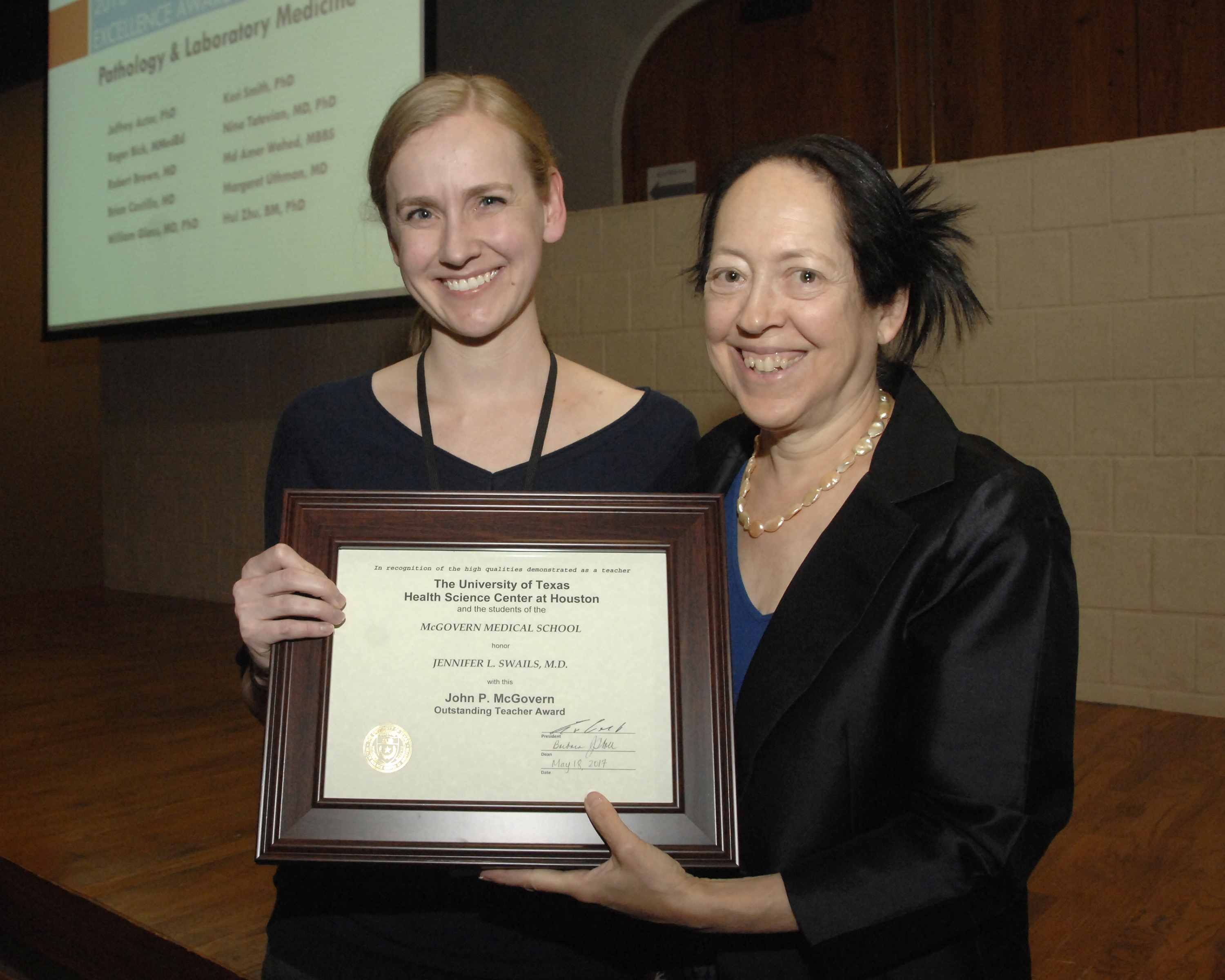 Jennifer Swails, M.D., assistant professor of internal medicine, is the winner of the 2017 John P. McGovern Award as the exception clinical teacher.
The John P. McGovern Award is given annually to the outstanding clinical faculty member as chosen by the senior class. The award is made possible by an endowment from the McGovern Foundation.
Swails said she was incredibly honored to receive the award. "We have many amazing educators at our school, and so to be selected by the graduating class is very meaningful for me," she said.
Swails, who joined the Division of General Internal Medicine in 2012, is associate program director of the Internal Medicine residency program. She graduated from Cornell University Medical School and completed residency training in internal medicine and primary care at Brigham and Women's Hospital in Boston. She is board certified in internal medicine.
When it comes to teaching, Swails said she enjoys the constant variety and approaches teaching with energy. "I try to bring enthusiasm to every interaction I have with students," she explained. "We are preparing them for such an important job, but we need to give them the skills they need to enjoy it."
Swails said she mentors students by seeing each one as an individual. "I try to recognize that each of them is coming from a unique background with a unique trajectory within medicine," she said.  "I do my best to help them honor that unique calling."
As far as her mentors, Morton Bogdonoff was her core teacher in internal medicine as a third-year student. "I model everything I do at the bedside after what he taught me as a student," she said.
Swails also was chosen by the graduating class to be the keynote speaker at commencement May 18, and wished "a huge congratulations to the graduating class of 2017!"
Previous recipients of the award include: Rukma Govindu, M.D., 2016; Pedro Mancias, M.D.,2015; Gabriel Aisenberg, M.D., 2014, 2012; Mancias, 2013, 2009; Eugene Toy, M.D., 2011, 2002; Octavio Pinell, M.D., 2010, 2008, 2006, 2004, 2001, 1999, 1997, 1995; Alberto Puig, M.D., Ph.D., 2007, 2005; Frank Arnett, M.D., 2003, 2000; Edward Yeomans, M.D., 1998; John F. Donnelly, M.D., 1996, 1993, 1990; James T. Willerson, M.D., 1994; John M. Passmore, M.D., 1992; and Herbert L. DuPont, M.D., 1991; Patricia Butler, M.D., 1985.
---