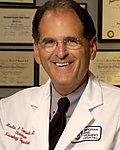 The 2nd Annual UTHealth Neurology Update Symposium is now just a month away, with this year's full-day CME accredited program focusing on topics like progressive multiple sclerosis, Parkinson's Disease and Alzheimer's Disease.
The event will be held 7 a.m. to 5 p.m., Saturday, Nov. 11 at The Houstonian (111 N Post Oak Ln, Houston, TX 77024). A continental breakfast and lunch is provided, and registration is open for physicians for $100 and for nurse practitioners/nurses for $50. The Neurology Update Symposium provides an evidence-based review on recent advances in the diagnosis and treatment of common neurological disorders and covers the latest guidelines, clinical strategies, and recent advances.
Dr. Martin A. Samuels, the 2017 Field's Lecturer and visiting professor from Harvard Medical School will be providing the event's first presentation on Neurohematology. Other lectures throughout the day include "Managing Epilepsy During Pregnancy," by Dr. Dhaila Gowda, "Evolving Treatment Strategies for Primary and Metastatic Brain Tumors," by Sigmund H. Hsu, and "Medical Futility," by Dr. Raymond A. Martin, among others.
For more information and to register, visit the event's website here.
---