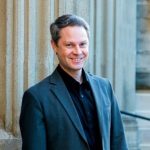 McGovern Medical School welcomed pianist Mark Vogel to campus Wednesday as he spoke about how composers use the physics of sound waves and rhythm to ease tension and even help the healing process as part of the second event in the Arts & Resilience Program – a series of events designed to link the arts and humanities with medicine.
Vogel, a music director, performer, and conductor, currently serves as the choir director at the Unitarian Universalist Church and music director at Congregation Beth Israel. In 2016, he was named artistic director of International Voices Houston. For the Arts & Resilience event, however, Vogel gave a lecture with scientific flair and a touch of humor as a way to help people understand "what's happening behind the music."
"There is a lot of subconscious effect that the music has on us and we don't really understand exactly why it makes us feel certain ways," Vogel said. "I can't say that I understand that either, but through some of the things I was talking about today, I think we get a window in on the physics behind it and the interesting things about the mechanisms that lend themselves to the ultimate emotions we feel from music."
Vogel performed music throughout his lecture with pieces by composers like Bach, Chopin, and concluded with a piece by Vince Guaraldi. In between his performances, Vogel addressed students and faculty regarding the physics of music – how sound waves travel, how we can "feel" music, and how we collectively react to those stimuli. He touched on notable examples of feeling music by talking about Evelyn Glennie, the Scottish virtuoso percussionist who is also deaf.
"She performs by understanding and using and feeling the vibrations of whatever instrument she's playing on," Vogel said.
Vogel also spoke of how the concept of the "intangibles" behind music encouraged him to study physics alongside his career in music, and this segued into understanding the medical uses for music. Music therapy can help patients relax and music can also be used to help facilitate physical rehabilitation.
"It can help patients communicate when they aren't able to otherwise, and it can be a way for patients to express themselves," Vogel said. He emphasized that music can also be a tool to increase the motivation of patients and increase their involvement in their own treatment at times.
Attendees also sang along with Vogel briefly, and performed several basic choir notes as Vogel addressed the health benefits of singing in a choir. He cited research focused on the heart rates of choir performers and, on a personal level, he recalled how the mood of those coming to sing in his choirs would swing from a state of tiredness of lethargy into alertness and a bit of happiness.
"The researchers found that, as the members sang in unison, their pulses began to speed up and slow down at the same rate," Vogel said. "In a way, it's like our heartbeats were aligning and our pulse rates are evening out together."
For the average medical student, Vogel said understanding music and its potential use in their field as a healing agent is important.
"It's important for people to see beyond the technicality in medicine that we're people with emotions and explore how music can have a role in medicine," Vogel said.
The next event in the Arts & Resilience Program will be noon Nov. 13 in MSB 3.001 and will feature choreographer Jane Weiner, who will demonstrate how dance can unlock creativity and promote well-being. The program is sponsored by the Dean's Office in collaboration with the McGovern Center for Humanities and Ethics.
---