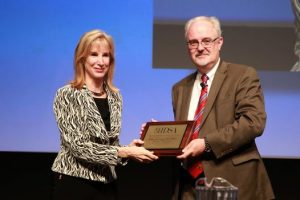 Barbara E. Murray, M.D., an internationally recognized infectious disease researcher at The University of Texas Health Science Center at Houston (UTHealth), has been awarded the Alexander Fleming Lifetime Achievement Award from the Infectious Diseases Society of America (IDSA), the organization's highest honor.
Murray is the J. Ralph Meadows Professor in Internal Medicine and director of the Division of Infectious Diseases, where she has been on the faculty since 1980. Murray has directly sponsored or mentored more than 50 trainees, issued several chapters for text and online books and has published more than 300 articles, which have been cited more than 23,000 times.
She has served on numerous local, national and international committees including the Food and Drug Administration's Anti-Infective Drugs Advisory Committee, the National Institutes of Health's (NIH) Recombinant DNA Advisory Committee – for which she also served as chair – and NIH's Bacteriology and Mycology Study Section.
"Dr. Murray's contributions have been significant and far-reaching, spanning microbial physiology, virulence, antimicrobial resistance and drug development and IDSA is honored to recognize her with this year's Alexander Fleming Award for Lifetime Achievement," said William G. Powderly, M.D., president of IDSA. "She has had a profound impact on the field, her colleagues, her mentors and public health."
Murray is the current chair of IDSA's Antimicrobial Resistance Committee. She has undertaken investigations exploring the science that forms much of the foundation for the current understanding of enterococcal drug resistance and pathogenesis. Her extensive research in enterococcal resistance, genotyping, genomics and virulence factors has established many of the modern therapeutic paradigms for these important pathogens.
She has helped characterize new and promising compounds for antibiotic development using a substantial collection of susceptible and resistant organisms that she maintains through guidance to pharmaceutical companies. She was a recipient of a NIH MERIT Award and her research has been NIH-funded for more than 25 years.
Murray was president of IDSA from 2013 to 2014 and has served on the IDSA Board of Directors in multiple roles, including as treasurer for six years and as secretary for three years. A current associate editor for IDSA's publication Clinical Infectious Diseases, she also served as an editor for Antimicrobial Agents and Chemotherapy for 10 years and is on the editorial boards of several other prominent journals in the field.
The award was presented to Murray at IDWeek 2017 in San Diego last week.
-Adapted from a news release by the Infectious Diseases Society of America
---