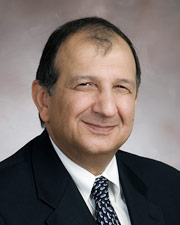 Dr. Hazim J. Safi, professor and chair of the Department of Cardiothoracic and Vascular Surgery at the McGovern Medical School at UTHealth, joins a distinguished list of colleagues in his field selected with the rare distinction of giving the John Homans Lecture at the 2018 Society of Vascular Surgery (SVS) Annual Meeting. Safi will present the lecture on the final day of the event, held June 21 to 23 in Boston.
The SVS established the Homans Lecture 67 years ago and has only had 13 speakers throughout its history, including some of the most innovative figures in vascular surgery. These include Dr. Clarence Crafoord in 1960, Dr. Michael E. DeBakey (whom Safi trained under) in 1982, Dr. Larry Hollier in 2013, and Dr. Frank Veith in 2016.
Named after Dr. John Homans, a founding member of the SVS and one of the most respected surgeons in the world, the lectureship is awarded to "some of the most innovative leaders in the field of vascular surgery," according to an article in the monthly journal Annals of Surgery. He defined what would be known as Homans' sign, a sign of deep vein thrombosis, which is still widely used by clinicians. Six generations of John Homans have cared for countless patients and the American soldiers of four wars.
"The careers of 2 particular Homans—John Homans IV of the Massachusetts General Hospital and John Homans V of the Brigham and Women's Hospital—have contributed much to progress in the fields of abdominal surgery and peripheral vascular surgery, respectively," according to the article.
Safi recently made history in late 2017 with his induction into the Academy of Athens, Greece's national academy founded in 1926, as a Corresponding Member. The distinction made him the second cardiothoracic and vascular surgeon from the United States to be inducted into the Academy. He joins the late Dr. Michael DeBakey, under whom he trained, as the only other American cardiovascular surgeon at the institution.
Praised for his "legendary" surgical skills across his 40-year career, he is an institution in the field of cardiothoracic and vascular surgery. He has authored or co-authored more than 30 book chapters and nearly 250 peer-reviewed articles for medical journals. Safi gives lectures and workshops internationally for surgeons and his studies have helped improve surgical techniques that have greatly improved outcomes.
---