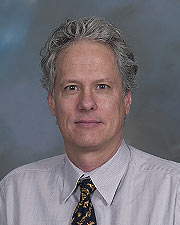 A small clinical trial underway at McGovern Medical School is testing the hypothesis that probiotics can help improve gastrointestinal symptoms of children with autism spectrum disorder (ASD).
J. Marc Rhoads, M.D., professor and director of the Division of Gastroenterology in the Department of Pediatrics, is leading the study, titled "The Road to Discovery for a Combination Probiotic," in search of evidence that the treatment is safe and promising.
The Centers for Disease Control and Prevention estimates 1 in 59 children in the United States has ASD, which is a developmental disability characterized by significant social, communication, and behavioral issues.
Probiotics have been known to have anti-inflammatory effects, and at least three systematic reviews published in BMC Gastroenterology, BMJ, and the American Journal of Gastroenterology, strongly suggest their benefit in adults with irritable bowel syndrome (IBS). IBS is a common gastrointestinal disorder characterized by persistent abdominal pain, bloating, and changes in bowel movements, including diarrhea and constipation.
Since about half of children with ASD have abdominal symptoms resembling IBS, Rhoads initiated the first American randomized, placebo-controlled trial approved by the Food and Drug Administration to investigate the safety and efficacy of a probiotic therapy for autistic behaviors, including gastrointestinal symptoms and biomarkers. Once screened and selected, study participants are either administered the combination probiotic Bifidobacterium lactis with Lactobacillus rhamnosus GG or a placebo capsule once a day for 56 days. The components of the trial medication, lactobacilli and bifidobacilli, have been shown to reduce symptoms in a meta-analysis of treatments for adults with IBS and in babies with colic.
The research is funded by the Texas Higher Education Coordinating Board, a state agency that oversees public post-secondary education.
"I am honored to be heading up this critical pilot trial," Rhoads said. "Gastrointestinal problems in an autistic child often cause other behavioral issues they may not be able to verbalize, so being able to resolve those issues could greatly improve their quality of life. If this study yields solid preliminary data, I'd like to implement a future multicenter trial to determine if the probiotic would be a better alternative to other therapies currently used for children with ASD."
In addition to studying the bacteria present in fecal matter, Rhoads is also examining metabolites, which are biochemicals produced by the bacteria, or by the intestinal or immune cells as they are affected by bacteria.
"These metabolites enter the bloodstream and can affect behavior and even the biological clock," Rhoads said. "Tracking the metabolites in the blood, in addition to the bacteria in the fecal matter, could lead to insight on how to curb aberrant behaviors, which include irritability, lethargy, stereotypy, hyperactivity, and inappropriate speech."
The trial takes a multi-faceted systems approach and includes experts in the fields of child psychiatry, biostatistics and gastroenterology. The group will measure the impact the probiotic has on autistic behaviors, gastrointestinal symptoms, gut inflammation and permeability, and fecal bacterial composition.
Participants must be between the ages of 4 and 15 with ASD and gastrointestinal symptoms. Over the course of three months, parents are required to monitor the child closely, document four surveys, bring the participant to five scheduled clinic visits, and participate in two phone interviews.
Those interested in enrolling their child may call 713-500-5669.
---