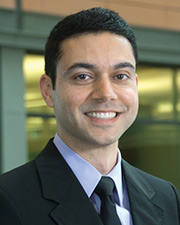 An assistant professor in the Department of Integrative Biology and Pharmacology at McGovern Medical School is among several researchers benefiting from Cancer Prevention & Research Institute of Texas (CPRIT) grants totaling $7.4 million for investigators with The University of Texas Health Science at Houston (UTHealth).
Ali Azhdarinia, Ph.D. received a $200,000 research grant for a project titled "Fluorescently Labeled Somatostatin Analogs for Image-Guided Surgery in Neuroendocrine Tumors." Azhdarinia is also on the faculty of The University of Texas MD Anderson Cancer Center UTHealth Graduate School of Biomedical Sciences.
"Surgery is the only curative option for some cancer patients, but its success depends on the complete removal of tumor tissue to prevent recurrence. Imaging techniques that successfully identify tumors preoperatively are not suitable for use in the operating room, and have led to the development of intraoperative imaging techniques that use targeted fluorescent contrast agents to light up tumors in real time," he said.
Azhdarinia has developed a new chemical strategy that adds a fluorescent dye to a clinically used radioactive contrast agent that targets neuroendocrine tumors. "Radiopharmaceuticals are excellent models for the development and translation of fluorescent analogs, and have been used by our group to develop a first-generation surgical imaging agent. We will now be able to optimize our agent design and develop an intraoperative imaging tool that can improve how cancer surgery is performed in this patient population." Azhdarinia's laboratory is focused on developing targeted agents that can be used for imaging and therapy in cancer, neurology and infectious disease.
---