Duke biography now available
---
---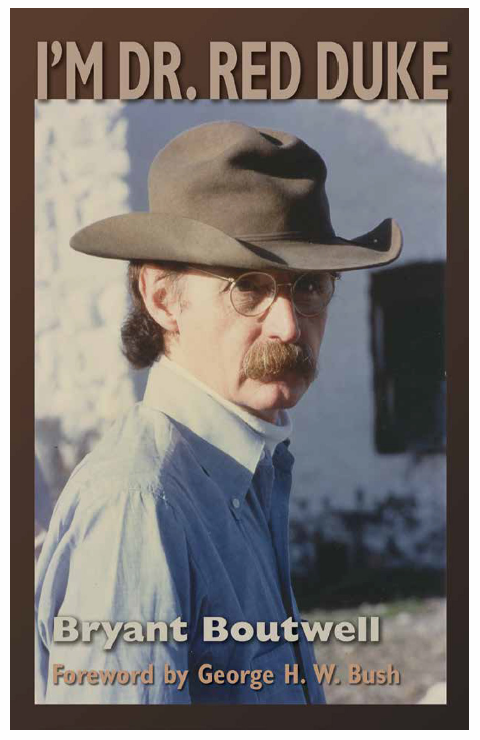 "I'm Dr. Red Duke" the biography of James H. "Red" Duke, Jr., M.D., by Bryant Boutwell, Dr.P.H. recently was published by Texas A&M University Press. Scoop sat down with Boutwell, former John P. McGovern, M.D. Professor of Oslerian Medicine, to find out more about putting to paper the story of the iconic and beloved Duke, who joined the medical school as a professor and trauma surgeon in 1972.
How long did it take to write this book?
It took three-and-a-half years to write. It involved a lot of research and interviews. I traveled to Hillsboro, Texas, to visit with his sister, went to Cedar Park, Texas, a few times, to interview his first wife, Betty Duke Kent. And I had lots of visits with Red, just about every Saturday of the last year of his life in his daughter Sara's home. He opened up his memory and let me record the interviews. Bill Kellar, the author of the Department of Surgery's "Skilled Hands" also had recorded three interviews in 2012 that he let me use.  I also was able to visit Red's storage unit in Houston where we discovered an old box that had 300 letters in it. Red's mother had saved all of his letters. I happily scanned them and returned the originals to the family.
What kinds of letters?
Letters to Santa, letters from when he lived in Afghanistan, letters from Germany during the Cold War where he was an Army tank commander. I also had the letters from when he was dating Betty – they were married 31 years. Those letters gave insights from when he was in the seminary and from his medical school days. A few weeks after he died (Aug. 25, 2015), Sara called and asked if I could help clear out his office at the medical school. There were items there I used for the book as well.
You knew Dr. Duke for many years prior to this project.
I met him in 1993 when I started working at the medical school. Back then he would pop into my office routinely, run an idea by me for a Texas Monthly column. But I could never corner him until he was convalescing at the end of his life. I was able to just sit and watch TV with him and really and share stories.
What surprised you most?
I was surprised by his childhood. His father could be difficult. He was a Baptist deacon and salesman who had been raised by an angry stepfather. Red had to overcome his father's anger. He learned how to work hard, starting a newspaper route, joining the Boy Scouts, and deal with anger, help others, and be industrious. His parents didn't support him in going to medical school and wanted him to be a preacher. Red met his wife in the seminary, and Betty encouraged him to follow his dream of being a doctor. I was also surprised by his college grades – they weren't always that good because he was having too much fun. Then he got serious and was first in his class in seminary, second in his class at UT Southwestern, graduating in 1960.
Now that the book is published, what's next?
I'm doing a lot of promotional work. Half of the book royalties will go directly to UTHealth and Red's scholarship fund at McGovern Medical School. Likewise, book royalties and gifts continue to grow the medical school's Boutwell/McGovern endowed scholarship fund, which now exceeds $600,000 and has been helping medical students from disadvantaged backgrounds since 2002. And I'm still in touch with the family. Betty wants to write her own story. If there's ever a movie on Red's life, I've got the screenplay already written in my head.
"I'm Dr. Red Duke" may be purchased at the McGovern Medical School bookstore.
---