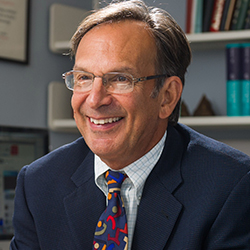 Bruce M. Spiegelman, Ph.D., the Stanley J. Korsmeyer Professor at Harvard Medical School and Dana-Farber Cancer Institute, will present the 2018-19 Harry E. Bovay, Jr. Annual Lecture on "Regulation of Thermogenic Adipose Cells: Biology and Therapeutics."
The lecture will be held 11 a.m. on Nov. 2 in the Beth Robertson Auditorium at The Brown Foundation Institute of Molecular Medicine (IMM).
Spiegelman received a B.S. with highest honors from the College of William and Mary in 1974, his Ph.D. in biochemistry from Princeton University in 1978, and completed postdoctoral work at Massachusetts Institute of Technology. He joined the faculty of Harvard Medical School and Dana-Farber Cancer Institute in 1982. His research focuses on fat cell biology, diabetes and muscular diseases.
Some of his major honors include the Bristol-Myers Squibb Award for Distinguished Achievement in Metabolic Research, the Rolf Luft award in Endocrinology, the Eliot P. Joslin Medal, the Transatlantic Medal (British Endocrine Society), the Naomi Berrie Award for Outstanding Achievement in Diabetes Research (Columbia University), and the Frederick Banting Medal of the American Diabetes Association.
Spiegelman has been elected to the American National Academy of Sciences, American Academy of Arts and Sciences, and to the Institute of Medicine. He has served as the elected Chair of the Section on Metabolism and Medical Physiology of the National Academy of Sciences.
This lecture series honors the life and work of Harry E. Bovay, Jr., 1914-2011, distinguished visionary, entrepreneur, civic leader, and philanthropist, who made a significant contribution to the IMM to help bridge the gap between the laboratory bench and the patient bedside, between identifying the molecular causes of diseases and actually preventing them.
---