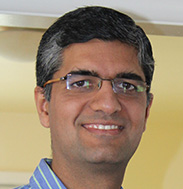 The Center for Human Genetics at the Brown Foundation Institute of Molecular Medicine at McGovern Medical School welcomed a new researcher this year through the UT Rising STARs program who aims to better understand genetic mechanisms behind cardiovascular disease through an innovative research program.
Ashish Kapoor, Ph.D., assistant professor, came to McGovern Medical School from the McKusick-Nathans Institute of Genetic Medicine at Johns Hopkins University, where he has served as a research associate in the Division of Cardiology since 2013. Kapoor was a postdoctoral research fellow at the same institute from 2007 to 2013, and received a doctorate in human genetics from the Jawaharlal Nehru Centre for Advanced Scientific Research in Bangalore, India, and a master of science degree from the University of Delhi with a focus on genetics.
The UT System Board of Regents created the Faculty Science and Technology Acquisition and Retention (STARs) Program in 2004 to help UT institutions attract and retain outstanding faculty. Awards, which can be used to purchase equipment and renovate facilities, require institutional support and are available to support the recruitment of tenure-track faculty members at any rank.
Kapoor's research aims to understand how sequence variation in cis-regulatory elements controlling gene expression leads to phenotypic variation and subsequently an individual's risk of certain types of disease. While at Johns Hopkins University, Kapoor led an effort to identify genes involved in sudden cardiac death. He and his mentor, Aravinda Chakravarti, Ph.D., director of the Center for Human Genetics and Genomics at Johns Hopkins University, along with others are responsible for the identification of the first gene known to be involved in heart electrical transmission abnormalities leading to sudden cardiac death using population-based genetic studies, NOS1AP. Through research utilizing genomic assay and the reversal of the normal sequence of investigation of genes associated with coordinated cardiac functions, Kapoor has used genetic mapping approaches to uncover novel genes previously unknown to be associated with cardiac conductance. His lab at McGovern Medical School uses electrocardiographic QT interval as a model quantitative trait to understand the genetic risk factor for sudden cardiac death in the general population.
"My overall goal is to functionally follow-up QT interval-associated GWAS (genome-wide association studies) loci to better understand the molecular basis of the observed trait associations and to test how multiple causal variants lead to disease," Kapoor said in his research outline.
Among his other achievements, Kapoor has been an editorial board member for Scientific Reports since 2014 and has been an ad hoc peer-reviewer for various other publications including the American Journal of Human Genetics, Genome Research, and the Journal of Molecular Medicine. He is a member of the American Society of Human Genetics and the Human Genome Organization. Kapoor is first-author on papers published in the major journals in the field of genetics and co-author on several others.
---