TMC Antimicrobial Resistance and Stewardship Conference returns Jan. 23-25
---
---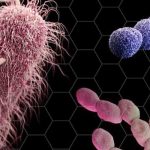 The Center for Antimicrobial Resistance and Microbial Genomics (CARMiG) at McGovern Medical School is inviting researchers, faculty, and students out to the second annual Texas Medical Center Antimicrobial Resistance and Stewardship Conference Jan. 23 through 25.
The three-day conference, hosted by CARMiG, Houston Health Department, and the Gulf Coast Consortia, welcomes internationally renowned experts in antimicrobial resistance research and will be held at the BioScience Research Collaborative (6500 Main St.). The event begins with registration at 8 a.m. Wednesday, Jan. 23 and offers lectures, abstract presentations, and poster sessions. Attendance offers CME and ACPE credit.
This year's opening keynote lecture, titled Plasmids and Antibiotic Resistance: Novel Insights into Bacterial Sex," will be delivered by Allesandra Carattoli, BSc, PhD, research director at the Istituto Superiore di Sanità in Rome. Other speakers include Charles Darkoh, PhD, associate professor at the UTHealth School of Public Health; David Weiss, PhD, of Emory University; Yousif Shamoo, PhD, vice provost for research and professor in the Department of BioSciences at Rice University; Lynn Bry, MD, PhD, associate professor at Harvard Medical School; and David W. Baker, MD, MPH, FACP, executive vice president of the Joint Commission.
Students can purchase tickets to the event for $25, postdocs for $50, GCC member faculty and staff for $125, and a ticket for Friday attendance is available for $75. For a complete agenda and to register for the conference, visit the event's website here.
---