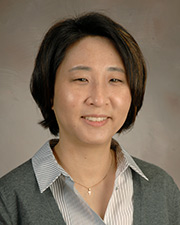 A leading expert in aging-related protein misfolding diseases is bringing her research to the Department of Integrative Biology and Pharmacology at McGovern Medical School, as part of the UT Rising STARs Award program.
Hyun-Eui Kim, Ph.D., assistant professor, joins McGovern Medical School from the University of California, Berkeley, where she served as a post-doctoral fellow. She has made various achievements in research related to cell death, stress responses, and age-related neurodegeneration. During her graduate studies, she resolved long-standing questions in the field about the apoptosome by discovering the biochemical effect of cytochrome c binding to Apaf-1. Kim also developed an innovative in vitro assay system to identify novel regulators of apoptosome assembly. She has been invited to several international conferences and her research was published in the prestigious journal Cell.
The UT System Board of Regents created the Faculty Science and Technology Acquisition and Retention (STARs) Program in 2004 to help UT institutions attract and retain outstanding faculty. Awards, which can be used to purchase equipment and renovate facilities, require institutional support and are available to support the recruitment of tenure- track faculty members at any rank.
In the course of studying possible connections between the unfolded protein response and protein aggregation, Kim uncovered a novel link between mitochondrial stress and cytosolic protein homeostasis. She found the signaling mechanism of this mitochondrial to cytosolic stress response and identified lipids such as cardiolipin and ceramide, as the key modulators. Such insight has raised intriguing questions about possible connections between metabolism and neurodegenerative diseases that have significant implications for the development of possible therapeutics.
"My work demonstrates, for the first time, the fundamental capacity for the mitochondrial proteome to communicate the metabolic state of its health across subcellular proteomes, termed the Mitochondrial to Cytosolic Stress Response, or MCSR," Kim said in her research plan. "I plan to pursue my independent research program by taking advantage of the conceptual framework and tools I have established during my postdoctoral research."
At McGovern Medical School, Kim will develop genetic and biochemical tools to identify the quality control machinery responsible for removing toxic aggregates, which is potentially regulated by changes in metabolism.
"Collectively, this proposed research program will tackle important questions to complete our understanding of the connection between the mitochondrial metabolism and aging and age-related protein misfolding diseases," Kim said. "Because many metabolic pathways can be specifically targeted with a wide range of natural and synthetic small molecules, eventually, they hold great promise for the discovery of safe treatments for the age-related protein misfolding diseases."
---