Arias selected as American Academy of Microbiology Fellow
---
---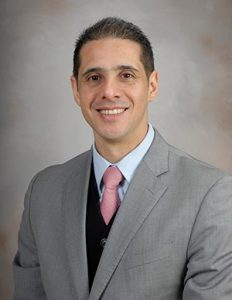 The American Academy of Microbiology (AAM) selected 109 new Fellows for 2019 through a highly-selective, peer-review process based on their records of scientific achievement and original contributions that have advanced microbiology.
The academy's mission is to recognize scientists for outstanding contributions to microbiology and provide microbiological expertise in the service of science and the public. The AAM currently has more than 2,400 Fellows representing all subspecialties of microbial sciences.
Cesar A. Arias, MD, MSc, PhD, director of the Center for Antimicrobial Resistance and Microbial Genetics is among those selected to the honorific leadership group within the American Society for Microbiology (ASM).
Arias holds the Laurel and Robert H. Graham Faculty Fellowship at McGovern Medical School and is the Margaret and Herbert Dupont Chair in Infectious Diseases at UTHealth School of Public Health. He is the director and founder of the Center of Antimicrobial Resistance and Microbial Genomics (CARMiG) at McGovern and the director of the Center for Infectious Diseases at the School of Public Health.
Arias' research focuses on antimicrobial resistance, a major public health threat. His work spans several areas including investigating the molecular basis of resistance to antibiotics, developing novel non-traditional therapeutic and diagnostic approaches for multidrug-resistant organisms, characterizing emergent mechanisms of resistance and their clinical impact, and the study of the population structure of multidrug-resistant bacteria with an international perspective.
Arias was one of the first recipients of the NIH K99/R00 Pathway to Independence Award and has also been the recipient of the ASM Young Investigator Award and the Infectious Disease Society Oswald Avery Award for early achievement, among others. He was inducted to the American Society for Clinical Investigation in 2015.
---