Going the distance for a good cause is all in a day's work for two senior leaders of UTHealth, who combined have put in nearly 70 years of service to the university.
So you may not be surprised to learn that George Stancel, PhD, UTHealth senior vice president for Academic and Research Affairs, and Robert Hunter, MD, PhD, chair of the Department of Pathology and Laboratory Medicine, were among the 10,000 cyclists raising awareness and funds for multiple sclerosis on the MS150 ride from Houston to Austin last month.
Stancel and Hunter biked nearly 170 miles over two days, which makes the Houston-Austin trek the largest MS150 biking event in the nation.
This is not their first rodeo, so to speak.
"I have ridden the MS150 six times, all with George Stancel," Hunter said. "I got started because of George Stancel.  I had been biking regularly along Brays Bayou. George suggested that I get a better bike and ride the MS150 with him.  He loaned me a road bike and shoes to get started. I was hooked."
Stancel started riding in the MS150 in 2005 and has ridden every year since – with one exception.
"I used to run, but as I got older my knees started getting sore so my kids bought me a bike for Father's Day one year. I then started ride the MS150 because I have a sister-in-law and several friends with the disease," Stancel explained.
Training for the April event starts at the end of January with weekend charity rides. Even though they have ridden in numerous MS150 rides together, Stancel and Hunter agreed that this year was one to remember.
"It was the best ever," Hunter said. "The weather was wonderful, clear and warm with a gentle breeze that was frequently a tailwind. In addition, the flowers along the way were the best that I can remember."
Stancel and Hunter rode with Hunter's daughter, Alice, who lives in Boston.
"I'm certain there were a number of other riders from UTHealth even though we did not have a team this year," Stancel said.  "I didn't recognize anyone among the 10,000 or so riders, but Dr. Hunter and I may not have noticed them since folks do look different in biking gear and helmets, and we likely passed (or were passed by!) a number of UTHealth riders."
Both riders called the event a fantastic experience and said they were grateful to the volunteers and donors who support the cause. The event is sponsored by the National Multiple Sclerosis Society, and this year's event raised about $11 million.
"I hope that UTHealth or the UT System organizes a team in the future – it would be great to see a bunch of folks with orange jerseys and a UT logo cruising along and would be a great way to promote a healthy activity for our faculty, students, and staff as well as our missions of research and health promotion!" Stancel added.
The co-chair positions for such a team may already be filled.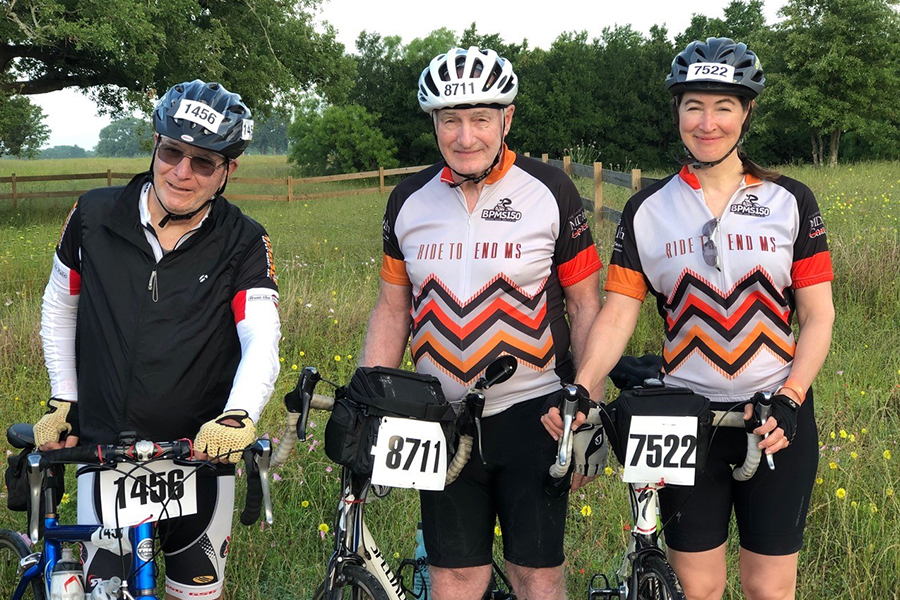 ---