Soto receives prestigious Zenith Fellows research grant
---
---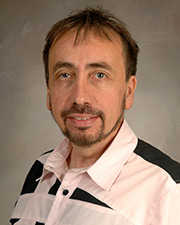 Claudio Soto, PhD, Huffington's Distinguished University Chair and professor of neurology, has received a Zenith Fellows research grant from the Alzheimer's Association.
Initiated in 1991, the Zenith Fellows award provides a vehicle of research support for donors with a substantial personal commitment to the advancement of Alzheimer's disease research. The award is one of the most prestigious awarded in Alzheimer's research and provides Soto with $450,000 in funding over a period of three years.
The funding supports scientific investigations into the development of a highly innovative and more relevant model to study Alzheimer's disease using pieces of human brain tissue generated in the laboratory from cells isolated from people who had Alzheimer's disease. In the lab, Soto and his team will grow the "mini-brains," which will eventually develop the main abnormalities typical of the disease.
"We still do not completely understand the chain of events that leads to neuronal dysfunction and brain damage responsible for Alzheimer's disease," said Soto, the director of The George and Cynthia Mitchell Center for Research in Alzheimer's disease and Brain Related Disorders. "With this Zenith Fellows Award, my team and I will work on the development and characterization of a highly innovative model to study the disease.
"These mini-brains may be utilized not only to understand the molecular basis of the disease in the actual human cells but will also represent an excellent tool to screen for compounds that can be used for the treatment of this devastating disease."
Soto's research concentrates on the molecular basis of neurodegenerative diseases associated with the misfolding and brain accumulation of proteins, particularly focusing in Alzheimer's disease and prion-related disorders. For 25 years, his work has led to a better understanding of these diseases and the development of novel strategies for diagnosis and therapeutic intervention.
The Zenith Fellows Award Program is part of a larger research funding effort from the Alzheimer's Association that has awarded more than $435 million to more than 2,900 projects. The latest round of Alzheimer's Association Zenith Fellows research grants supports three scientific investigations totaling $1.35 million.
---