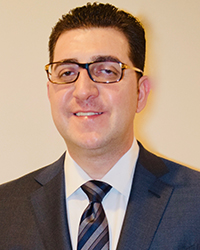 Starting this month, a worldwide clinical trial to evaluate endovascular thrombectomy efficacy and safety in acute stroke patients with large ischemic core infarcts will get underway under the leadership of Amrou Sarraj, MD, associate professor of neurology.
The trial, SELECT 2 (A Randomized Controlled Trial to Optimize Patient's Selection for Endovascular Treatment in Acute Ischemic Stroke), aims to enroll 560 patients over 2-3 years in 30 sites – in the United States, including Stanford University, Cleveland Clinic, Rush University, and Dell Medical School, and several international sites in Canada and Europe.
"We are looking at a group of patients that was largely excluded from prior clinical trials and does not have a proven treatment at this point," said Sarraj, the global principal investigator for the study. "There is a potential of adding further indications for thrombectomy efficacy, but there are also concerns for safety; concerns for bleeding and dying."
The study also will assess imaging selection prior to thrombectomy and if there was a heterogeneity of thrombectomy treatment effect in patients with discordant imaging profiles on non-contrast computed tomography and perfusion images.
"The limit of thrombectomy benefit is unclear when it comes to infarct size. We also still do not know if simple imaging can select patients for thrombectomy just as well as advanced perfusion images," Sarraj added. "Our study will help reveal how large is 'large' and what imaging may be sufficient to identify those who may benefit."
Patients will be randomized into the trial in the emergency room using a web-based system that considers factors such as stroke severity, size, age, clot location, and treatment-time window. Patients randomized to endovascular thrombectomy will be treated with FDA-approved thrombectomy stent-retrievers. Those randomized to medical management only will receive standard medical therapy based on current American Heart Association guidelines, receiving IV-tPA if presenting within the first three hours from wellness and meeting other FDA label criteria. Patients will be clinically assessed at baseline, 24-72 hours after randomization, day 5-7 or at hospital discharge, and at days 30 and 90.
"In spite of the significant recent advances in the evidence supporting endovascular thrombectomy for acute ischemic strokes, there are still a few important remaining questions" Sarraj explained. "Stroke size and imaging selection prior to thrombectomy are two major ones that we will attempt to address."
Imaging analysis for the study will be done by the Central Neuroimaging Core Lab at McGovern Medical School.
This study builds upon Sarraj's work as national study PI on SELECT, Optimizing Patient Selection for Endovascular Treatment in Acute Ischemic Stroke. In that phase II prospective cohort study, out of 445 patients enrolled in nine U.S. centers, 105 patients had a large ischemic cores. Of those, 31 percent who were treated with thrombectomy and 14 percent who were treated with medical management achieved functional independence. Thrombectomy also resulted in mortality reduction and was not associated with a significant increment in bleeding. Good patient outcomes decreased with increasing core size and time to treatment though. The analysis was presented at the International Stroke Conference 2019 at Honolulu, Hawaii and published in JAMA Neurology.
Sarraj serves as the vice chair of clinical quality for the Department of Neurology and is the director of the Vascular Neurology Fellowship Program. He joined the McGovern Medical School faculty in 2012. He earned his medical degree from Damascus University Medical School in Syria, completing an internship in internal medicine at University of Illinois, Chicago/Advocate Christ Medical Center and his neurology residency and vascular neurology fellowship at UTHealth.
---