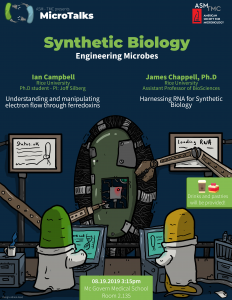 In an effort to bring together microbiologists from different institutions around the Texas Medical Center, a group of microbiology students from McGovern Medical School, Rice University, and Baylor College of Medicine through the American Society for Microbiology have created MicroTalks, an interinstitutional seminar series.
The series is held once per month and invites speakers from across the Texas Medical Center to present on different topics pertaining to microbiology and infectious diseases. From the development of vaccines to global antibiotic resistance threats, and everything in between, the MicroTalks have already become a huge hit among students and faculty.
"We've tried to incorporate as many different microbiology disciplines as possible," said American Society for Microbiology – Texas Medical Center Chapter president Ayesha Khan. "For example, McGovern is really strong when it comes to things like bacteriology, but not many people study, for example, neglected tropical diseases or viruses. This allows us to bring those kinds of speakers here so we can learn from them and collaborate with them."
The MicroTalks are not styled as a traditional lecture, but instead speakers are asked to give a broad, 20-minute Ted-style talk that focuses on the big picture and the major impacts of their work. Following the talks, faculty, students, and postdocs are invited to provide feedback or ask questions to generate a discussion about the work.
"Ultimately regardless of what kind of scientist is in the room, anyone can understand what the speaker is working on, and what their progress is," Khan said. "We have two speakers at every session who work on different projects and are often from different institutions. This creates a huge, diverse discussion where we learn about various ways to address a major issue in microbiology."
The discussion-style program also allows for scientists to speak on raw data they have discovered. Whether they have a problem and don't know where to turn next, or if they just want feedback on what they can do different in their research.
"It's really low pressure," said American Society for Microbiology – Texas Medical Center Chapter treasurer Alexandra Berroyer. "Sometimes as a student, when you're going to present, you are pretty nervous because you feel like you need to present a full story. But our space is relaxing because this feels more like a discussion where you are free to think big."
Popularity of the MicroTalks has spread over its first five months of existence, with more than 50 people attending the last meeting. Khan said she is happy to see a good balance of graduate students, faculty, and postdocs that come to each event. "This truly represents synergy in science."
The MicroTalks continue in August with "Synthetic Biology: Engineering Microbes" and will be held on at 3:15 p.m., Monday, Aug. 19, in MSB 2.135.
---