In Memoriam: Robert J. Amato, DO
---
---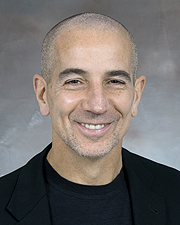 Dr. Robert J. Amato, professor in the Division of Oncology, died Friday, Sept. 6, 2019.
Dr. Amato was born Nov. 19, 1956. He obtained his medical degree from the University of North Texas, Texas College of Osteopathic Medicine after graduating with a bachelor's of science degree from Texas Christian University. Dr. Amato completed his residency program in internal medicine at the Texas College of Osteopathic Medicine Hospital System before becoming a fellow in Medical Oncology at The University of Texas MD Anderson Cancer Center, where he earned the top award for clinical excellence. He became faculty at MD Anderson Cancer Center in 1988 and was there until 2000, when he joined the faculty of Baylor College of Medicine as an associate professor. He joined UTHealth's Department of Internal Medicine, Division of Oncology, as a professor in September 2008.
Dr. Amato was one of the world's leading experts in the treatment of genitourinary cancer. Early in his career, his research helped make testicular cancer a highly treatable disease. His current research focused on molecular-targeted therapeutics to halt the progression of metastatic kidney and prostate cancers, the further development of immunotherapies with a primary focus on vaccine and immune therapy, and determining how elements from his studies could have been used in the treatment of bladder and testicular cancer.
Dr. Amato came to UTHealth in 2008 to develop the Division of Oncology. During his tenure, he oversaw a tremendous amount of growth, bringing in a mix of senior and junior faculty, as well as building a robust research team to work on clinical and translational trials. He singlehandedly set up the Division of Oncology at McGovern Medical School and jelled together the various elements to build the UT/ Memorial Hermann Cancer Center – TMC.
On the clinical side, Dr. Amato was an extremely competent and astute clinician who was universally respected and admired. His faculty peers would contact him to discuss complex oncology cases, and his opinion was valued tremendously. He had a very busy practice, and patients came to see him from all over the world due to his reputation, research publications, and great successes in treating patients with genitourinary malignancies. His dedication to his patients was matched only by their devotion to him, and he put forth tremendous energy and expertise in caring for them.
Dr. Amato believed strongly in the value of teaching and mentorship. He shared his wide-ranging knowledge and ideas about innovations in cancer treatment with everyone around him. He was a strong advocate and mentor for junior faculty's emerging research careers. He took true pleasure in working with trainees and students to teach the next generation of clinician-scientists. He provided the necessary environment for junior faculty to grow individually in their career paths. The impact of his work will live on not only in the lives of thousands of cancer patients but also in the lives of trainees and junior faculty.
He was a person who lived life to the fullest, and he was a true leader with a vision that his faculty believed in and follow to this day. He was passionate about instilling a sense of hope, scientific curiosity, and hard work in those around him. These efforts will continue to touch lives for many years to come. We are grateful for the time we spent with him, and he will be sorely missed.
The family would like to thank the physicians and staff at Mischer Neuroscience Institute, UTHealth, and Memorial Hermann-TMC who cared for him over the last 29 months. Memorial contributions may be directed to the Dr. Robert Amato Memorial Fund, P.O. Box 1321, Houston, TX 77251-1321 or giving.uth.edu/memorial.
---