Estrera named chair ad interim
---
---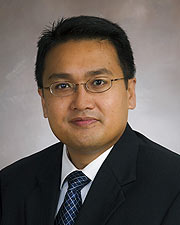 Dean Barbara J. Stoll has announced that Tony Estrera MD, the Hazim J. Safi MD Distinguished Chair in Cardiovascular Surgery, has been named as chair ad interim of the Department of Cardiothoracic and Vascular Surgery.
Estrera earned his medical degree from The University of Texas Southwestern Medical School in Dallas and completed his residency in general surgery and his cardiothoracic surgery fellowship at Baylor College of Medicine.  He joined the faculty of McGovern Medical School in 2000, rising to the rank of professor in 2010.
He succeeds Hazim Safi, MD, who has served as chair since the department's founding in 1999.  An internationally recognized surgeon-scientist and teacher, Safi will remain on faculty as professor and will continue to play an integral role in the department.
"We want to thank Dr. Safi for his 20 years as chair and his outstanding service to the medical school and university.  Dr. Safi is a treasure– one of the great legends of cardiovascular surgery.  He built an amazing department, known nationally and internationally, taking on the most difficult of clinical cases, training countless CV surgeons, and pushing the boundaries of what is possible in surgery," Dean Stoll said. "We look to Dr. Estrera to build upon this tremendous foundation. Dr. Estrera is an internationally known physician, educator, investigator, and thought leader in cardiovascular disease, who brings a wealth of experience and wisdom to the position."
Safi added, "Dr. Estrera deserves all the accolades.  He is a brilliant surgeon, an innovator, a wonderful educator, and quite simply a very good human being. I am proud of all of his accomplishments and know the department is in great hands.  The sky's the limit."
Estrera is also a leader at Memorial Hermann-Texas Medical Center. He has been the medical director of the Cardiovascular Intensive Care Unit since 2000 and the medical director of the Cardiovascular Intermediate Care Unit since 2009. He has been the co-program director of the renowned Houston Aortic Symposium since 2009 and serves as a member of the editorial boards of the Annals of Thoracic Surgery, the Journal Aorta, and the Journal of Thoracic and Cardiovascular Surgery.  An active clinical investigator, Estrera has published over 300 peer reviewed articles and book chapters.  He is a sought out and engaging speaker who is invited to lecture around the world to teach others the latest in cardiovascular medicine.
A search committee will be named to conduct a national search to identify a permanent chair.
---