Baker elected to national academy
---
---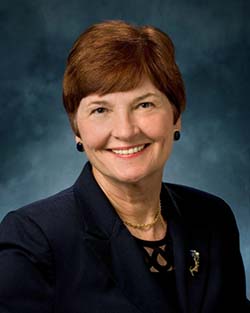 A highly accomplished infectious diseases clinician, educator, and vaccinologist, Dr. Carol Baker, adjunct professor in the Department of Pediatrics, has been elected to the prestigious National Academy of Medicine (NAM).
Baker was one of 100 professionals elected to the academy for outstanding professional achievement this week.
"This remarkable and well-deserved honor recognizes Dr. Baker's lifelong contributions to mothers and babies," said Barbara J. Stoll, MD, dean of McGovern Medical School and H. Wayne Hightower Distinguished Professor.
Baker was recognized for her expertise in group B streptococcal (GBS) epidemiology, pathogenesis, and prevention, and discovering the critical capsular component for conjugate vaccine development.
Baker has spent her career advocating on behalf of the health of mothers and babies. "I wanted to be a doctor since the age of 6, and I was determined to do something that helped children's lives," she said, adding that she was inspired to become a doctor by her mother – her parents met in college and were both pre-med.
She said she was "absolutely surprised and thrilled" at the incredible honor of being elected to NAM. "I hadn't been that surprised since I was the only woman admitted to my class in medical school," she added.
Baker earned her medical degree from Baylor College of Medicine in 1968, completed her internship at University of Southern California Medical Center, Los Angeles; and completed her residency and fellowship at Baylor as well as a research fellowship at Harvard. Her advocacy for maternal immunization shaped a new medical culture in the United States, enabling doctors to save the lives of countless newborns.
"Election to the Academy affirms that this was worthwhile," she said. "But this honor reflects the whole team – those who work in the lab, the clinical research – I didn't do this alone."
Baker adds this distinction to many other awards, including the 2019 Albert B. Sabin Gold Medal, the Maurice Hilleman Award from the Center for Disease Control and Prevention; the Mentor, Society Citation, and Alexander Fleming Lifetime Achievement awards from the Infectious Diseases Society of America; the Distinguished Physician Award from the Pediatric Infectious Diseases Society; and the Schneerson-Robbins Award in Vaccinology.
Established originally as the Institute of Medicine in 1970 by the National Academy of Sciences, the NAM addresses critical issues in health, science, medicine, and related policy and inspires positive actions across sectors. Membership in NAM is based upon distinguished professional achievement in a field related to medicine and health, as well as demonstrated and continued involvement with the issues of health care, prevention of disease, education, or research.
---