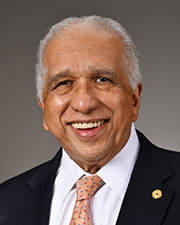 Adan A. Rios, MD, professor of oncology in the Department of Internal Medicine, has been selected as the Flag Bearer for the Independence Day Celebration in his native country of Panama Nov. 3.
Rios received a letter from Panamanian president Laurentino Cortizo Cohen Oct. 15, informing him of the honor. In the letter, Cohen said, "This honor recognizes your merits as a Distinguished Son of Panama, with an impeccable professional career and who throughout his life has shown the highest level of commitment to his people, the Panamanian people, and a model to our future generations."
"In no small measure, McGovern Medical School is part of this great honor bestowed to my persona," Rios said. "Important contributions to the welfare of the Panamanian people have come through the support given by so many of my colleagues at the Medical School as well as the support of the school administration."
The two-day independence celebration will be held Nov. 3-4 in Panama City. Rios will be honored alongside New York Yankees Hall of Fame pitcher Mariano Rivera.
Rios, who left Panama over 30 years ago, said the relationship with his country of origin has always been an important component of his personal and professional life.  He attributed that the range of activities propitiated by that relationship, from direct assistance with patient care to the promotion and exchange of educational efforts, directly to when he joined the Medical School.
"The opportunity to share with those who created the conditions in your life to have the blessings of this life in the United States is one that I treasure and try to honor," Rios said. "For me, this distinction represents the 'pat on the back' from his people and of a grateful nation."
---