Don't throw out that old book
---
---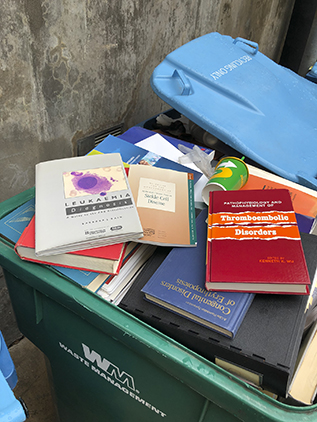 The new year is an excellent time to throw out some of that clutter piling up around your office and on your desk. However, when it comes to clearing out your bookshelves, there are better options for old books than the blue recycle bin.
In 2003, a pair of students from the University of Notre Dame developed an idea to sell unwanted textbooks from previous semesters to fellow students who would be taking the courses. The following winter, the students held a book drive to collect over 2,000 books and raise over $10,000, while officially creating Better World Books.
Better World Books accepts book donations to resell online, with a portion of a profits going toward literacy programs that help give struggling people around the world the skills and self-esteem necessary to thrive and succeed. The resold books also keep millions of books out of landfills, helping to protect the environment as well.
To date, Better World Books has accepted over 26 million used books, resulting in $28.4 million raised for literacy and libraries and recycling more than 320 million books.  If you are interested in donating your used books to Better World Books, more than a dozen locations around the Houston area can be found by clicking here.
Additionally, for donation of books published before 1950, please contact Philip Montgomery, MLIS, CA, head of the McGovern Historical Center at pmontgomery@library.tmc.edu or 713-799-7145.
---