Oderich named chief, Division of Vascular Surgery
---
---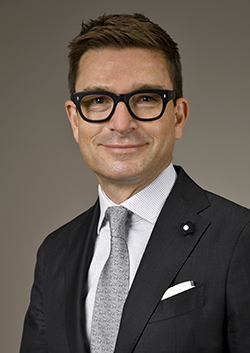 Anthony L. Estrera, MD, FACS, professor and interim chair of the Department of Cardiothoracic and Vascular Surgery, has named Gustavo Oderich, MD, chief of the Division of Vascular Surgery, effective July 1, 2020.
"I am honored by the privilege of helping the UTHealth team build the next chapter of complex endovascular therapy in Houston, where it all started," Oderich said. "Together, I believe we can achieve the highest level of patient care, innovation, and education."
Oderich joins McGovern Medical School from the Mayo Clinic in Rochester, Minnesota, where he served as chair of the Vascular and Endovascular Surgery Division. He is the chair of Reporting Standards Fenestrated and Branched Endografts for the Society of Vascular Surgery. He also serves as national principal investigator for multiple clinical trials, including the Cook Thoracoabdominal Branch Stent Graft Trial and ZFEN Plus Stent Graft Trial.
Oderich is the associate editor of the Annals of Vascular Surgery and has served on the editorial boards for many esteemed medical journals in the field of vascular surgery.
"We are very fortunate to have Dr. Oderich join our team," said Estrera, the Hazim J. Safi Distinguished Chair of the Department of Cardiothoracic and Vascular Surgery. "Arriving from the Mayo Clinic where he built the premier complex endovascular surgical program, he will be leading our Division of Vascular and Endovascular Surgery.
"I have no doubt that through his expertise, leadership, and enthusiasm, he will help elevate our already outstanding department to new heights."
Oderich received his medical degree from Universidade Federal do Rio Grande do Sul in Brazil in 1995, where he also completed a residency in general surgery in 1997. Following a research fellowship in vascular surgery at the University of Utah, Oderich joined the Mayo Clinic College of Medicine for an internship in 2000 before beginning residency at the Mayo Clinic in 2003.
Oderich made the relocation to Houston with his wife Thanila Macedo, MD, who will join McGovern Medical School as an associate professor of radiology, and their children.
---