Pediatrics contributes to national MIS-C research
---
---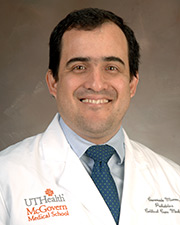 Multisystem inflammatory syndrome in children (MIS-C) has been recognized as an "uncommon complication" of COVID-19. The McGovern Medical School Division of Pediatric Critical Care contributed to a network study on this topic at the request of the CDC, which recently was published in the New England Journal of Medicine.
The study, led Adrienne Randolph, MD, from Boston Children's Hospital, included sites affiliated to the Pediatric Acute Lung Injury and Sepsis Investigators Network (PALISI Network). The Division of Pediatric Critical Care was invited to participate in this study with Alvaro Coronado Munoz, MD, assistant professor of pediatrics, as the site investigator. The study adds important information about the Multisystem Inflammatory Syndrome in U.S. Children and Adolescents, including  data from 186 patients with MIS-C in 26 states. Three of these patients were from Children's Memorial Hermann Hospital.
"At the time of the collection of this data –between March and May –less than 6 patients with MIS-C were reported from the 3 participating sites in Texas," Coronado Munoz said. "It is assumed that MIS-C occurs 2 to 3 weeks after infection of COVID, and at the time we had barely any pediatric acute COVID-19 cases in our state."
Nearly 300 cases of MIS-C have occurred in those under the age of 21 in the United States, involving damage to multiple organ systems in predominantly previously healthy children.
The research is ongoing, and Coronado Munoz said he expects at least 5 more local patients to meet the criteria. "We will do long-term follow-up to see what the implications of MIS-C will be," he added. "This study will give us more information about this syndrome, which was originally described in Europe and New York."
Coronado Munoz has been the medical liaison from our institution in the PALISI network since 2017, when he joined the McGovern Medical School faculty. He is a graduate of Universidad Peruana Cayetano Heredia, Peru and completed residency at St. Barnabas Hospital in New York and a fellowship at the University of Miami.
---