Flores elected Pediatric Infectious Disease Society fellow
---
---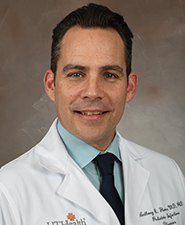 Anthony Flores, MD, MPH, PhD, associate professor in the Department of Pediatrics, is one of eight distinguished physicians and scientists from across the U.S. and around the world to be elected as fellows of the Pediatric Infectious Disease Society (PIDS) in 2020.
"It is a tremendous honor to have been named fellow along with the seven other recipients this year," Flores said. "But at the same time, it's quite humbling to be included with other such accomplished and excellent clinicians and scientists. This honor would not be possible without the excellence support from the Department of Pediatrics at McGovern Medical School, and UTHealth."
The designation "fellow" in PIDS honors those who have achieved professional excellence and provided significant service to the profession. Applicants for PIDS fellowship must be nominated by their peers and meet specified criteria, including continuing identification with the field of pediatric infectious disease, national or local recognition, and publication of their work in strong biomedical journals.
Flores, a physician-scientist in the Division of Infectious Diseases joined McGovern Medical School in October 2017. In addition to patient care, Flores maintains active laboratory-based research in streptococcal epidemiology and pathogenesis. His research has resulted in over 45 peer-reviewed publications and is funded by grants from the National Institutes of Health.
Flores received each of his medical degree, doctor of philosophy, and master of public health from the University of Rochester School of Medicine and Dentistry before completing his internship and residency in pediatrics and a fellowship in pediatric infectious diseases at Baylor College of Medicine.
PIDS is the world's largest organization of professionals dedicated to the treatment, control, and eradication of infectious diseases affecting children. Membership is comprised of physicians, doctor-level scientists, and others who have trained or are in training in infectious diseases or its related disciplines, and who are identified with the discipline of pediatric infectious diseases or related disciplines through either clinical practice, research, teaching, or administration activities.
---