McGovern residents volunteer for COVID-19 front lines
---
---
When a crisis occurs, you can almost bet on the health care industry to respond without hesitation to provide support for those in need. Facing the same worries about the COVID-19 pandemic as the rest of the population, medical professionals around the world showed no fear in coming together to provide care and help battle the deadly virus.
At McGovern Medical School, some of that help came from physicians who are not too far removed from walking the stage and taking the Hippocratic oath, when residents quickly volunteered to head to the front lines of the pandemic fight.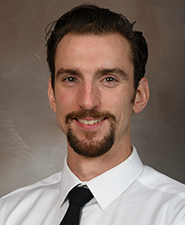 "It was important to me to make sure that there was enough manpower to staff the newly opened COVID-19 units effectively, and not overburden our residents and faculty," said Alexander Gazda, DO, resident in the Department of Internal Medicine. "Ultimately, if a small number of volunteers burned out from the overwhelming surge of patients, we wouldn't be able to provide quality care for our patients at all."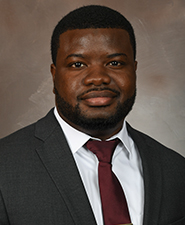 For Messan Folivi, MD, internal medicine resident, the pandemic hit home in a different way. Originally from Togo in West Africa, Folivi was just beginning medical school when the Ebola outbreak started in 2014. Folivi said he remembers growing up and being used to the notion of being helpless and waiting for help from outsiders.
"I realized that as a physician, I can come from a certain community and be part of the change affecting that community. I can be part of the team providing help to those in crisis," Folivi said. "As a medical student at the time, there was not much I could do to be involved. One of my motives in becoming a physician is to be involved in helping the underserved. This year when I began to learn about the pandemic, I realized that now as a physician, I can directly be involved."
In total, more than 65 residents at McGovern Medical School volunteered to help with the COVID-19 battle. Emergency medicine residents worked on the front lines before the status of the pandemic in Houston was even clear. Internal Medicine, surgery, and anesthesiology residents worked with COVID patients who required intensive care early in the pandemic rather than spending time on their normal rotations, while some residents from other departments like plastic surgery; pediatrics; and obstetrics, gynecology, and reproductive sciences; temporarily left their specialties altogether to aid.
In addition, 20 residents who graduated from McGovern Medical School on May 1, started their residencies nearly a month early, beginning work on June 1 rather than June 24.
Gazda describes the beginning of a typical day helping COVID patients as a more militarized operation. The physicians change into designated COVID scrubs, they're issued an N95 mask and hair and foot coverings and they are "whisked off into battle." From there however, Gazda and Folivi say the day proceeds almost like any other would be on a pre-pandemic day. Physicians still pre-round on patients, gather as much information from the nursing staffs, charts, and patients as possible, and then proceed to discuss what the best course of action is for each presentation.
"Procedures are still performed, patients' families are still updated on their loved ones, and we even still have time to eat lunch," Gazda said. "Maybe this is just our way of striving for normalcy as a defense mechanism to the stressful situation, but once everyone accepted the heightened level of caution implicit with treating COVID-19 patients, the day actually proceeds quite similar to a normal wards or ICU day."
While a day at the hospital may feel normal for the physicians when they leave, much like the rest of the population around the world, their normal lives are no longer there. Many of the traditional stress relievers doctors turn to when they need to wind down after a long day are no longer available. Whether its rock climbing at the gym which helps Gazda unwind, or the inability for Folivi to visit his family in Baton Rouge, young physicians have had to find new ways to cope with copious amounts of stress.
"I've been running outside (trying to stay away from crowded areas of course), trying to shore up my financial literacy, and connecting with friends over video chat," Gazda said. "In fact, I have found the pandemic has strengthened connections with friends with whom the relationship was confined to mostly texting due to distance."
For Folivi, it's usually straight to bed after a long day at the hospital. "I found a good sleep is very refreshing, especially when your mind and body is exhausted," he said. "Spending time on my days off visiting with friends while social distancing is refreshing, and I like to watch movies and play video games online. Needless to say, I also keep myself busy on my days off."
While their professional lives have been skewed slightly by the pandemic, due to missed rotations or countless other changes, the residents who volunteered to join the front lines in the fight against COVID-19 will receive a wealth of knowledge and experience, as well as possibly a new outlook on their career.
"I discovered a hidden sense of solidarity in the medical team and staff members from the physicians, nurses, and the auxiliary staff. I gained a deep respect and appreciation for the nursing staff, for they are really the ones constantly in contact with the patients." Folivi said. "The mutual respect was unique, as we all know that each one of us was putting their life on the line. Everyone knew they were taking a risk by working in that unit. This gives a sense of union and solidarity that helps to deal with the reality confronting us."
---