The ongoing COVID-19 pandemic has brought about a "new normal" for people around the world. With travel restrictions and communities closing down, people are having to adjust to a new lifestyle, often using technology to ease that transition.
Face-to-face meetings at businesses have become videoconferences through software such as Cisco Webex and Zoom, and students, from primary school through graduate education, have begun learning online through virtual classes.
The changes to everyday life have extended into the field of health care as well. With an increased importance on keeping medical professionals safe, many nonessential and elective doctors' appointments and surgeries have been canceled, placing a strain on private practices to stay afloat.
These changes have led to a loosening of regulatory barriers and an explosive increase of telemedicine use across the health care field. According to a report from McKinsey & Company Healthcare Systems & Services, health professionals have begun seeing 50% to 175% more patients via telehealth than prior to the pandemic.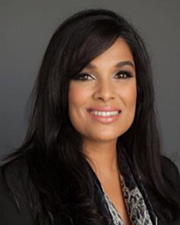 "Telemedicine has been absolutely crucial," said Shama Rasheed, MD, chief medical officer/medical director of New Horizon Hospital and McGovern Medical School alumna from the Class of 1999. "Because of the pandemic, I'm seeing a lot more disruption of family systems, a lot more cases of depression, anxiety is through the roof, and a lot of people who were teetering on the edge prior to it.
"I've been busier than ever," she continued. "A lot of people who normally wouldn't come and make an appointment with a mental health professional or psychiatrist have come in now due to all the direct and indirect fallout on their mental health."
A longtime proponent of telemedicine, Rasheed has been practicing online since 2010, when she was managing an international private practice and seeing patients in the United Arab Emirates. Since the onset of the pandemic, she has been able to extend the services she offers to her patients in the UAE to all of her patients both locally and statewide.
Rasheed said that the transition for her patients to telemedicine has been very smooth, because with most psychiatry appointments, person-to-person contact is not necessary. Where she saw the most improvement was with patients appearing for their appointments.
"Patients could be in the car, or they could be at home, or they could be wherever and still make it to the appointment," she said. "It helps out our patients because there is a cost savings of not having todrive and not having to take time off from work or school. Telemedicine has been a big help in mental health care overall."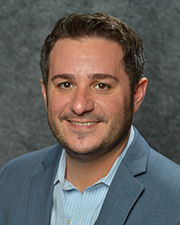 Contrary to Rasheed's practice in psychiatry, for John Cangelosi, MD '05, and founder of Sagis, a physician-led, subspecialty pathology laboratory specializing in dermatopathology, the COVID-19 pandemic had a tremendously negative impact on his practice. As a laboratory, Cangelosi's practice relies on referring dermatologists, so throughout the worst of the government shutdown he saw his referrals drop by nearly 90%.
"Dermatologists were unable to perform minor or elective procedures (including biopsies) throughout the worst of the COVID-19 shutdown," Cangelosi said. "When the shutdown was lifted, people were still afraid to be out, so they were canceling or postponing their dermatology appointments. Now they're more comfortable being out, and we are actually beginning to see a rebound in patient samples."
Although telemedicine was not an option for patients in his practice, Cangelosi was able to utilize the technology in other ways.
"Telemedicine has played more of a role in education for us," Cangelosi said.
Cangelosi has begun hosting virtual "happy hours" for dermatologists, where they upload interesting cases that would normally be viewed under a microscope, which allows them to review those online digitally and go over them Zoom meetings.
"We've really embraced that technology," Cangelosi said. "Because of the pandemic, people are feeling that web-based learning is the easiest access they can get to education right now. We were able to offer more teaching opportunities because our students don't have to physically come into our laboratory. We can go directly to individual residency programs over the web."
Cangelosi has said participation with telemedicine has "caught on like wildfire." With being able to interact in real time online as well as keep in contact through email and social media, the lab has seen over 200 students attend their weekly teleconferences from over 20 countries.
While both Cangelosi and Rasheed are excited about the implementation and sudden growth of telemedicine, they each agree there is room for improvement for physicians and patients. For instance, while telemedicine is convenient for patients who would otherwise be traveling from long distances, many patients in rural areas may not have access to the high-speed internet required for the calls.
For physicians, since the technology is so new, many have not had the training required for telemedicine and may face a learning curve with the new technology.
"The future is bright," Cangelosi said. "It's just the fact that right now, there's still a certain discomfort in looking at things virtually and on a computer monitor."
In the future, long after the COVID-19 pandemic has been contained, Rasheed believes the technology will be in good hands.
"Nowadays I feel like young people are used to technology and so much of their communication, even their personal relationships are on social media," Rasheed added. "It's something they're very comfortable with, and maybe they can even teach doctors like me, who have been in practice for over 20 years, a thing or two."
---