New director named for ID
---
---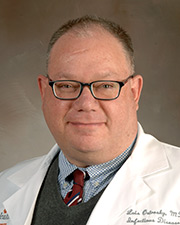 Following a national search, David McPherson, MD, chair of the Department of Internal Medicine, has announced Luis Ostrosky-Zeichner, MD as the new director of the Division of Infectious Diseases.
Effective Feb. 15, Ostrosky-Zeichner has taken on the division director role within the Department of Internal Medicine and also has been appointed chief of Infectious Disease at Memorial Hermann-Texas Medical Center and LBJ General Hospital. He also serves as vice chair of medicine for Healthcare Quality, medical director for Epidemiology and Antimicrobial Stewardship at Memorial Hermann-TMC, and associate medical director for Infection Prevention at UT Physicians.
"Dr. Ostrosky is an established leader in infectious diseases and has been a tireless force in our university's COVID-19 response," said McPherson, the James T. and Nancy B. Willerson Chair, and Francine and Frederick Pevow Distinguished Professor in Cardiology. "I know his dedication and collaboration will further grow our strong division."
Ostrosky-Zeichner earned his medical degree from Universidad Nacional Autonoma de Mexico. He completed his internal medicine residency at Instituto Nacional de Ciencias Medicas y Nutricion Salvador Zubiran, and his infectious diseases fellowship at McGovern Medical School and MD Anderson Cancer Center combined fellowship program.
He is a fellow of the American College of Physicians, the Infectious Diseases Society of America, the Society of Healthcare Epidemiology of America, and the Academy of the European Confederation of Medical Mycology. He is a senior editor for Journal of Antimicrobial Chemotherapy, as well as an editorial board member of Antimicrobial Agents and Chemotherapy and Clinical Infectious Diseases. He is also a past chair of the Infectious Diseases Society of America Standards and Practice Guidelines Committee and has been a consultant to the FDA and CDC. In 2017, he received the UTHealth President's Award for Leadership.
Ostrosky-Zeichner takes on the role from Barbara Murray, MD, holder of the J. Ralph Meadows Professorship in Internal Medicine, who has stepped down from the position after 25 years. She remains a senior faculty member and mentor for the Division of Infectious Diseases and the Department of Internal Medicine.
---