Research on antibody-drug conjugates shows promise in fighting breast cancer
---
---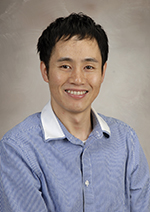 Research from the lab of Kyoji Tsuchikama, PhD, assistant professor in the Texas Therapeutics Institute at The Brown Foundation Institute of Molecular Medicine, on a new potential treatment for combating breast cancer has been published in the June edition of Nature Communications.
"Breast tumors generally consist of a diverse population of cells with varying gene expression profiles," said Chisato M. Yamazaki, PhD, postdoctoral research fellow in the Tsuchikama lab and first author of the new study. "Breast tumor heterogeneity is a major factor contributing to drug resistance recurrence, and metastasis after chemotherapy."
One of the emerging treatments showing success at treating breast tumors are antibody-drug conjugates (ADCs), particularly the drug ado-trastuzumab emtansine (KADCYLA®) for breast tumors that test positive for a protein called human epidermal growth factor receptor 2 (HER2). However, these treatments also struggle with heterogeneity among tumor cell populations and an ineffectiveness at killing cancer cells showing relatively low levels of HER2.
"Intratumor heterogeneity of HER2 expression has been reportedly observed in 16-36 percent of patients with HER2-positive breast tumors," Tsuchikama said. "HER2 heterogeneity is associated with aggressive growth, high relapse rates, and poor survival. Further, the expression level of HER2 can decrease after continual treatment with trastuzumab, leading to resistance against anti-HER2 therapy."
To overcome this clinical issue, the lab developed dual-drug ADCs, by linking a single anti-HER2 antibody with two synthetic antineoplastic agents, monomethyl auristatin E (MMAE) and monomethyl auristatin F (MMAF) as payloads. Unlike conventional ADC preparation methods that provide a mixture of multiple products, the lab's novel antibody-drug conjugation technology allowed to generate highly pure (homogeneous) ADCs as single products.
The lab then tested their dual-drug ADCs on mouse models of refractory breast cancer with heterogeneous HER2 expression and elevated drug resistance, to show that their homogeneous anit-HER2 ADC exerted remarkable therapeutic effect.
"This dual-drug ADC shows significant and durable antitumor effect in low HER2-heterogeneous breast cancer models that individual or co-administered conventional, single-drug ADCs are unable to treat effectively," Tsuchikama said. "Our findings suggest that simultaneous delivery of two payloads with distinct drug properties is a promising approach to combating cancer heterogeneity and drug resistance."
The lab's "plug-and-play" conjugation technology could open the door for ADC-based therapeutics to be used as treatment for not just breast cancer, but other intractable cancers with intratumor heterogeneity and drug resistance.
"The simplicity and versatility of our technology will likely allow for quickly generating dual-drug ADCs using a variety of combinations of antibodies and payloads. We believe our technology platform will help accelerate our and other researchers' efforts to identify promising anticancer drug candidates," Tsuchikama said.
"As a team, we synergized the strengths of three laboratories with expertise in antibody engineering, chemistry, and breast cancer biology, and it has led to the success of this project," said Zhiqiang An, PhD, professor and Robert A. Welch Distinguished University Chair in Chemistry and co-author of the study.
Contributing authors for the paper titled "Antibody-drug conjugates with dual payloads for combating breast tumor heterogeneity and drug resistance," are Yamazaki; An; and Tsuchikama, as well as Aiko Yamaguchi, PhD, postdoctoral research fellow; Yasuaki Anami, PhD, postdoctoral research fellow; Wei Xiong, MD, PhD, research scientist; Yoshihiro Otani, MD, PhD, clinical fellow at Okayama University; Ningyan Zhang, PhD, professor.
Additional authors include Jangsoon Lee, PhD and Naoto T. Ueno, MD, PhD with M.D. Anderson Cancer Center.
The paper has also been selected to appear on Nature Communications' 'Editor's Highlights,' a small number of featured articles the editors believe are particularly interesting or important.
The study was supported by the Department of Defense Breast Cancer Research Program, the Cancer Prevention and Research Institute of Texas, the Welch Foundation, MD Anderson's Cancer Center Support Grant, the University of Texas System, and the Japan Society for the Promotion of Science.
---