Dowhan named ASBMB Fellow
---
---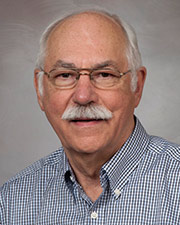 William Dowhan, PhD, professor and John S. Dunn Endowed Chair in the Department of Biochemistry and Molecular Biology has been inducted into the first class of Fellows of the American Society for Biochemistry and Molecular Biology (ASBMB).
Dowhan joined 30 of his colleagues in the ASBMB as the inaugural fellows for the organization. Fellows are recognized for their meritorious efforts to advance the molecular life sciences through sustained outstanding accomplishments in areas such as scientific research, education, mentorship, commitment to diversity, and service to the society and scientific community.
"Dr. Dowhan's success lies in successfully challenging dogma, use of evolving technology and approaches, and generating new concepts," said George Carman, PhD, Dowhan's nominator.
ASBMB receive a crystal award and a pin, and are recognized by the ASBMB in various public forums including a profile on the ASBMB website, an announcement in the member email newsletter, inclusion in the ASBMB Today magazine, and an announcement on the ASBMB social medial channels. Fellows will also be recognized and honored at the ASBMB annual meeting.
Regular, industry, and emeritus members of the ASBMB submitted nominations for the inaugural class of fellows. After an immediate and robust response, the 30 candidates were chosen by the Membership Committee from a list of around 100 nominees.
"Selection as a Fellow of the American Society for Biochemistry and Molecular Biology is an honor bestowed on our most distinguished members," the society said. "The 2021 fellows are indeed a distinguished group of scientists who have contributed to multiple missions of our society over a sustained period of time and enriched our world through their efforts and accomplishments."
At McGovern Medical School, Dowhan's lab studies lipid-protein interaction and discovered that lipids are involved in proper folding of membrane proteins and that changes to the lipid environment can alter membrane protein activity.
Dowhan won the ASBMB's 2005 Avanti Award in Lipids, which recognizes outstanding research contributions. He has served on the society's Meetings Committee and organized a scientific symposium for the annual meeting. He is a past editorial board member for the Journal of Biological Chemistry.
Dowhan received his PhD from the University of California, Berkeley, in 1969 before completing a postdoctoral fellowship in the Harvard Medical School Department of Biological Chemistry in 1972. He joined the faculty at McGovern Medical School in 1972 as an assistant professor in the Department of Biochemistry and Molecular Biology, while also serving  as a member of the faculty at The University of Texas MD Anderson Cancer Center UTHealth Graduate School of Biomedical Sciences.
---