Von Allmen named chief of Pediatric Neurology
---
---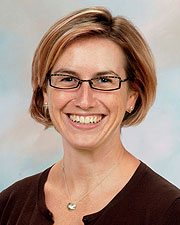 The Department of Pediatrics has named Gretchen Von Allmen, MD, professor and director of the Pediatric Epilepsy Program, as the permanent division chief of Pediatric Neurology. Von Allmen has served as the interim chief since October 2020, succeeding Ian Butler, MD.
"I am honored by the opportunity to serve the Department of Pediatrics as chief of the Division of Child Neurology, and excited to be working alongside such wonderful colleagues both inside and outside the Department of Pediatrics to grown and achieve a new vision for Pediatric Neurosciences at UTHealth," Von Allmen said.
"I am grateful to Dr. Ian Butler, Dr. Mary Aitken, and my many mentors and colleagues for their support, guidance, and solidarity as we strive to advance care for children with neurological conditions through innovation and research, as well as train and mentor the next generations of child neurologists and other neuroscience professionals."
Von Allmen earned her medical degree at Emory University in 1998 and trained in child neurology and epilepsy at Northwestern University, University of Chicago, and Baylor College of Medicine, before joining the faculty at McGovern in 2007. She is American Board of Psychiatry and Neurology (ABPN)  certified in neurology with special qualifications in child neurology and epilepsy, and specializes in the treatment of drug-resistant epilepsy in children and epilepsy surgery.
Her clinical research interests include the genetics of epilepsy, brain malformations, and the use of magnetoencephalography and electroencephalography to understand epileptic networks and response to treatment.
"I am confident that Dr. Von Allmen's vision for growth and excellence will build on the strong program that is Dr. Butler's legacy, and believe that she is the ideal leader to lead the next phase of this important program," said Mary E. Aitken, MD, Dan. L Duncan Distinguished University Chair in Pediatrics.
---