New study examines use of reusable EHMRs
---
---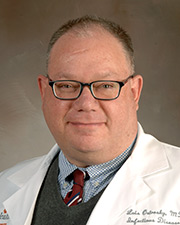 A team of researchers, led by Luis Ostrosky, MD, professor of infectious diseases and vice chair for Healthcare Quality, is seeking 100 UTHealth and Memorial Hermann-Texas Medical Center (TMC) healthcare workers to participate in a CDC-funded study.
The study examines the use of reusable half-mask respirators (EHMRs) among healthcare workers during routine patient care. Because healthcare workers may have a higher risk of exposure to infections than the public in some settings, the use of respirators, such as EHMRs or disposable N95 respirators, is essential for protecting workers from certain infections, such as tuberculosis and COVID-19.
The research team consists of Ostrosky, the medical director of Epidemiology at Memorial Hermann-TMC; Janelle Rios, PhD, MDP, faculty associate at the UTHealth School of Public Health; and Lisa Pompeii, PhD, professor of pediatrics at Baylor College of Medicine. The UTHealth Institutional Review Board has approved the project, IRB #HSC-SPH-21-0164.
Due to the shortages of N95 respirators that hospitals have experienced, the CDC is examining alternative options, including the use of the reusable EHMR. The EHMR provides the same level of respiratory protection as the disposable N96 and some Memorial Hermann-TMC healthcare providers used this type of respirator (although a different model) early in the pandemic.
The purpose of the study is to examine the feasibility, including the barriers and promoters, of wearing the EHMR during routine patient care. The study ultimately hopes to prevent respirator shortages during future pandemics.
Participants for the three-month study will be initially screened, as well as fit tested and trained to wear the elastomeric respirator. They will then be followed for three months and asked to complete seven short surveys about their experiences wearing the elastomeric respirator during routine patient care.
Participation in the study is strictly voluntary. Healthcare professionals who wish to participate will be compensated for participating in respirator fit testing and a training session (to be held during the week of Sept. 27) and for completing seven short online surveys (less than 10 minutes per survey). You may also keep your elastomeric respirator at the end of the study period.
If you are interested in participating in this study, you must be at least 18 years of age, and serve in a role in which you provide direct patient care, case management, or counseling. You must also be fit tested and trained, which will take approximately 45-60 minutes during a time slot of your choice during the week of Sept. 27-Oct. 1 in the Cullen Board Room at Memorial Hermann-TMC.
If you are interested, click here, to learn more about the study, sign the consent form, and sign up for fit testing and training.
---