McGovern joins new NORD Rare Disease Centers of Excellence Network
---
---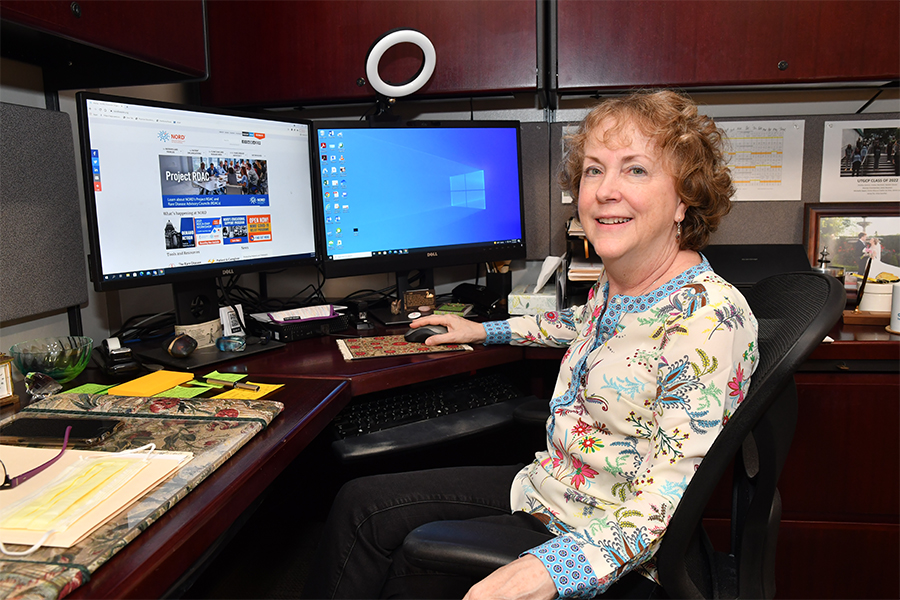 McGovern Medical School has announced its designation as a NORD Rare Disease Center of Excellence, joining a highly select group of 31 medical centers nationwide as part of an innovative network seeking to expand access, advance care, and research for rare disease patients in the U.S.
The program is being led by the National Organization for Rare Disorders (NORD), with a goal to foster knowledge sharing between experts across the country, connect patients to appropriate specialists regardless of disease or geography, and improve the pace of progress in rare disease diagnosis, treatment, and research.
"There has never previously been a way nationally to recognize places where we take care of people with rare disorders," said Hope Northrup, MD, professor of pediatrics and director of the Division of Medical Genetics. "We've never had a way to designate different academic institutions, hospitals."
"It became apparent to me that we needed this because different centers of excellence around the school were all independently applying to NORD for resources — that was my driving force for getting the whole medical school involved. This designation recognizes that we're giving cutting-edge care — some of the best in the U.S. — for many rare disorders."
People living with rare diseases frequently face many challenges in finding a diagnosis and quality care clinic. In establishing the Centers of Excellence program, NORD has designated clinical centers across the U.S. that provide exceptional rare disease care and have demonstrated a deep commitment to serving rare disease patients and their families using a holistic, state of the art approach.
Each center was selected by NORD in a competitive application process, requiring evidence of staffing with experts across multiple specialties to meet the needs of rare disease patients and significant contributions to rare disease patient education, physicians training, and research.
The NORD Rare Disease Centers of Excellence program is formulated to achieve better outcomes for all members of the rare disease community. This collaborative partnership strives to push the rare disease field forward by establishing and implementing new standards of care and innovating around new treatments, therapies, and research.
Any disease that affects fewer than 200,000 people in the U.S. is considered rare, according to the National Institutes of Health. There are over 7,000 rare diseases and 25-30 million Americans estimated to be currently living with rare diseases. More than 90 percent of rare diseases lack an FDA-approved treatment.
"Right now, far too many rare diseases are without an established standard of care. The Centers of Excellence program will help set that standard — for patients, clinicians, and medical centers alike," said Ed Neilan, chief scientific and medical officer of NORD. "We are proud to announce McGovern Medical School as a NORD Rare Disease Center of Excellence and look forward to their many further contributions, as we collectively seek to improve health equity, care, and research to support all individuals with rare diseases."
The majority of rare disease care and education at McGovern Medical School is centered in the Department of Pediatrics and its comprehensive programs that provide world-class care for the most fragile and vulnerable population of children, The UTHealth High Risk Children's Program and the Chronic Health Oriented Services for Ninos (CHOSEN) program. The programs are enhanced medical homes designed to reduce fragmentation of care and lower the incidence of serious illness and the related costs.
McGovern Medical School also features a Combined Internal Medicine and Pediatrics (Med-Peds) training program to help with the transition from pediatric to adult care, and there is a Med-Peds inpatient team at Memorial Hermann Hospital/Children's Memorial Hermann Hospital that frequently cares for young adults making the transition from pediatric to adult care.
Additionally, numerous Centers of Excellence (CoEs) for rare disorders at The Medical School have designations and accreditations, such as the Tuberous Sclerosis Complex (TSC), the LAM (lymphangioleiomyomatosis) Clinic, and The UTHealth Neurosciences Huntington Disease (HD) clinic, among others. McGovern also has CoEs for specific rare diseases such as The Center for Treatment of Pediatrics Neurodegenerative Diseases, The Glycogen Storage Diseases (GSD) Center, The Congenital Diaphragmatic Hernia (CDH) Designated Research Center, and more.
For more information on the NORD Rare Disease Centers for Excellence program, and the full list of centers, visit the program's website.
---