Kao admitted into ACS Academy of Master Surgeon Educators
---
---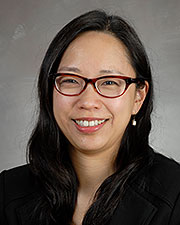 Lillian S. Kao, MD, professor and Jack H. Mayfield, MD, chair in the Department of Surgery was inducted into membership in the American College of Surgeons (ACS) Academy of Master Surgeon Educators Oct. 15, at a virtual induction ceremony. Kao is among 85 surgical educators inducted into the fourth cohort of members for the Academy.
"I am highly honored to have been inducted into a society with such esteemed colleagues and will do my best to uphold the mission," Kao said.
Developed by the ACS Division of Education, the Academy recognizes surgeon educators who have devoted their careers to surgical education. The Academy's mission is to play a leadership role in advancing the science and practice of education across all surgical specialties, promoting the highest achievements in the lifetimes of surgeons.
Kao serves as the director of the Division of Acute Care Surgery and has served as the president of the Association for Academic Surgery, which promotes the development of young academic surgeons through courses on surgical research and career development, research awards, and early opportunities for leadership.
Kao received her medical degree from the University of Michigan Medical School in 1996 before completing her residency (2001) and fellowship (2002) at the University of Washington Medical Center. She joined the McGovern Medical School faculty in 2002.
Academy membership carries an obligation for commitment to the Academy's goals, which are to identify, recognize, and recruit innovators and thought leaders committed to advancing lifelong surgical education; translate innovation into actions; offer mentorship to surgeon educators; foster exchange of creative ideas; disseminate advances in surgical education; and positively impact the quality of surgical care and patient safety.
"This Academy of preeminent surgeon educators has been making landmark contributions to surgical education and is introducing many transformational changes in surgical education and training that will endure into the future," said Ajit K. Sachdeva, MD, director of the ACS Division of Education and co-chair of the Steering Committee of the Academy.
For a listing of all surgeons and other professionals honored with selection into the Academy, visit the American College of Surgeons website.
---