Thosani studies role of AI in gastrointestinal oncology
---
---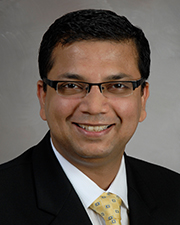 Research from the lab of Nirav Thosani, MD, associate professor of gastroenterology in the Department of Internal Medicine and chief of the Center for Interventional Gastroenterology at UTHealth (iGUT), has been published in the November edition of Cancers.
Gastrointestinal cancers such as esophageal, gastric, colorectal, pancreatic, and liver cancers are among the leading causes of death worldwide, killing more than 2.8 million people each year, and more than 5 million new gastrointestinal, pancreatic, and hepatobiliary cancers were recorded worldwide in 2020.
Current diagnosis for gastrointestinal cancers mainly relies on interpretations of radiologists and endoscopists from various images. However, Thosani and other gastroenterologists believe there may be a future for artificial intelligence in diagnosing these cancers in ways that humans cannot.
"The use of AI in endoscopic procedures is a significant breakthrough in modern medicine," the authors wrote. "Although the diagnostic accuracy of AI systems has markedly increased, it still needs collaboration with physicians. In the near future, AI-assisted systems will become a vital tool for the management of these cancer patients."
AI, or the intelligence of machines compared to natural human intelligence, is a computer science field which uses machines to replicate various human functions like learning and problem solving. The widespread usage of AI has led to tremendous advances worldwide, including in the medical industry. Using both virtual and physical AI, developments have led to machine and deep learning (virtual) as well as medical devices and robots (physical).
"AI is considered an instrumental tool in changing the future of healthcare, especially oncology," the authors said. "AI may become a useful tool in screening, diagnosing, and treating various cancers by accurately analyzing diagnostic clinical images, identifying therapeutic targets, and processing large datasets."
Thosani's research looks at esophageal, gastric, colorectal, pancreatic, and hepatocellular cancer, and the role artificial intelligence can play in their respective diagnoses. For each disease, the ability to detect the cancers early leads to increased survival rates. The potential for AI to detect these signs faster and more accurately provides a need for expanded research into the technology.
"While limitations such as external validation, clinical application, and the need for randomized control trials remain, the evidence supports the use of AI and therefore necessitates the need for larger controlled trials," the authors wrote.
According to the authors, most of the data on AI use are not prospective, requiring a need for large, multicenter clinical trials to allow for the system to be evaluated in real-time clinical settings. In order to develop, generalize, and commercialize artificial intelligence for gastrointestinal cancers, more research is needed to narrow those down to one or two accepted methodologies.
"If successful, the AI-assisted systems have the potential to become a vital tool for the management of these cancer patients," the authors said.
The paper titled "Scope of Artificial Intelligence in Gastrointestinal Oncology," was co-written by Hemant Goyal, MD; Syed A. A. Sherazi, MD; Rupinder Mann, MD; Zainab Gandhi, MD; Abhilash Perisetti, MD; Muhammed Aziz, MBBS; Saurabh Chandan, MD; Jonathan Kopel; Benjamin Tharian, MD; and Neil Sharma, MD.
---