In memoriam: John D. Milam, MD
---
---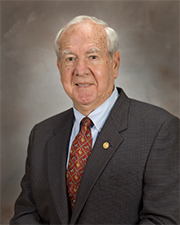 John D. Milam, MD, professor emeritus of pathology and laboratory medicine, died March 24, 2022. He was 89.
With a distinguished career of service and leadership in medicine and pathology, he was leading member of the Department of Pathology and Laboratory Medicine as well as the former president of the Houston Society of Pathologists, the Texas Society of Pathologists, the American Board of Pathology, and the American Association of Blood Banks.
Dr. Milam earned his master's degree at Louisiana State University in 1957 and his MD degree from the LSU School of Medicine in New Orleans in 1960. He did a rotating internship in Shreveport and a residency in pathology at LSU and Confederate Memorial Hospital in 1961. In 1965, Dr. Milam spent a year in New York for a fellowship at Memorial Sloan-Kettering Center, after which he joined the pathology staff at St. Luke's Episcopal Hospital in Houston.
Dr. Milam worked in anatomical pathology, clinical pathology, nuclear pathology, and blood transfusions. His areas of focus were transfusions, coagulation, and pheresis treatment for autoimmune disorders.
Dr. Milam joined the McGovern Medical School faculty in 1988 and also taught at Baylor College of Medicine, working with the residency training program in pathology. He also interacted with several technology schools, focusing on medical technology and blood banking. He was a leading figure in the Houston Combined Program for Medical Technology Education.
While at UTHealth Houston, Dr. Milam helped develop devices to facilitate pheresis and refine blood banking and transfusion approaches for open heart surgery and immunohematology. Dr. Milam assisted Dr. Denton Cooley and others in performing the first human implantation of cardiac prosthesis for staged replacement of the heart in 1969.
A member of the founding board of the Gulf Coast Regional Blood Center, Dr. Milam also was on the Board of Governors in the College of American Pathologists.
He received the 1981 George T. Caldwell, MD Award from the Texas Society of Pathologists and the College of American Pathologists Lifetime Achievement Award in 2010. Dr. Milam and his wife, Carol, were recognized by UTHealth Houston in 2018 for their commitment to establishing an endowed chair, the John D. and Carol J. Milam Chair in the Department of Pathology.
He is preceded in death by his wife, Carol. They leave behind four children, Beth, Julie, John Jr. (Johnny), and Kay, and their spouses and grandchildren.
Funeral arrangements are pending.
---