Diversity, Equity, & Inclusion in Action: Omowunmi Aibana, MD, MPH
---
---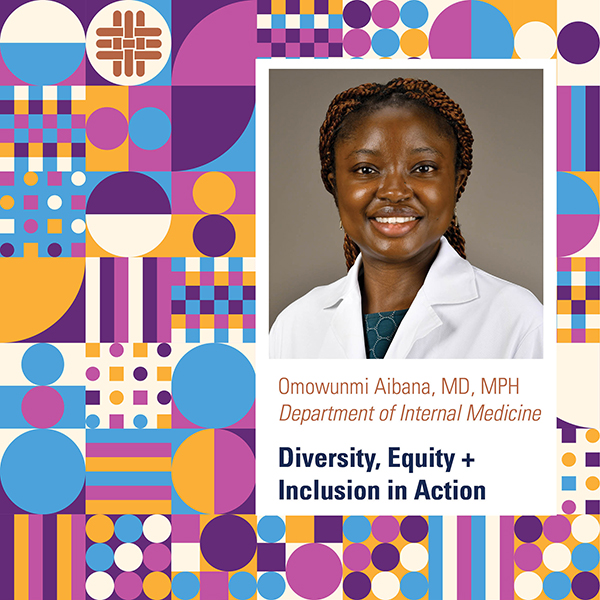 Diversity, Equity, & Inclusion in Action is a monthly column that aims to highlight the important work of each of McGovern Medical School's Vice Chairs for Diversity and Inclusion.
Beginning in 2020, the role of Vice Chair for Diversity and Inclusion was created at McGovern Medical School to help demonstrate cultural awareness and knowledge and to provide vision and leadership for diversity and inclusion initiatives across each department's various clinical, research, and teaching sites.
This month's feature is Omowunmi Aibana, MD, MPH, associate professor in the Department of Internal Medicine.
What did it mean to you to be named as a Vice Chair for Diversity and Inclusion?
I felt honored to be chosen to steer DEI efforts for the department but also recognize that, by necessity, this cannot be a one-person task. To achieve the ideals of DEI, every single one of us needs to participate and make it an intentional practice.
What does diversity and inclusion mean to you?
Intentionally fostering spaces where everyone, regardless of background or identity, feels a sense of belonging, gets equitable access to opportunities, and ultimately thrives while fulfilling their personal and professional goals.
Why is it important for McGovern Medical School to have these positions?
The position provides organizing leadership and leverage to meaningfully advance the school's mission of being a diverse and inclusive learning environment.
What are some of your duties and responsibilities as a vice chair?
In this role, I undertake various projects, including implementing relevant diversity, equity, and inclusion curricula for faculty, staff, and trainees; expanding the use of holistic review in the GME recruitment process; implementing tools and systems to minimize bias and enhance recruitment/retention of diverse faculty and trainees; developing a mentoring program for junior faculty; and providing ample opportunities for everyone to participate in the dialogue.
What is your department currently doing to help create a culture of diversity and inclusion at the Medical School?
We are doing many things, including education, increasing awareness, and creating opportunities for productive dialogues about various DEI topics.
Who in your department is helping you to implement these ideas?
I work with a great diversity and inclusion committee, which is open to all members of the department including students, residents, fellows, faculty, and staff. But really, everyone who participates in all DEI events is considered part of this important movement.
What does your department hope to do in the future to continue building on that culture?
Engage in the next level of making structural and systemic changes to ensure that DEI considerations become the status quo driving how we implement programs and interact with each other as well as patients.
What has been the biggest challenge you have faced in beginning this initiative?
Sustaining momentum after the initial phase of implementation.
How have your colleagues, both in your department and around the Medical School, received your initiatives for diversity and inclusion?
Overall initiatives and efforts have been very well received. I have been fortunate to lead efforts to transform recruitment in the graduate medical education programs as well as adding Social Justice and Advocacy themes to the medical school curriculum.
---