Diversity, Equity, & Inclusion in Action: Anjail Sharrief, MD, MPH
---
---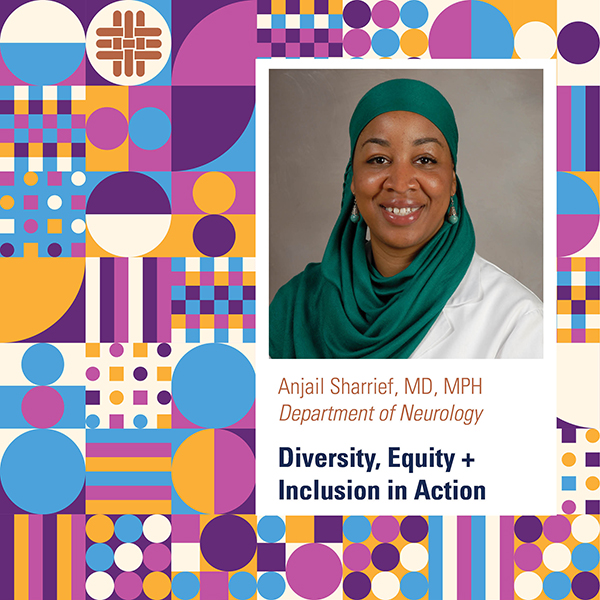 Diversity, Equity, & Inclusion in Action is a monthly column that aims to highlight the important work of each of McGovern Medical School's Vice Chairs for Diversity and Inclusion.
Beginning in 2020, the role of Vice Chair for Diversity and Inclusion was created at McGovern Medical School to help demonstrate cultural awareness and knowledge and to provide vision and leadership for diversity and inclusion initiatives across each department's various clinical, research, and teaching sites.
This month's feature is Anjail Sharrief, MD, MPH, associate professor in the Department of Neurology.
What did it mean to you to be named as a Vice Chair for Diversity and Inclusion?
This was a great honor for me. It is also well aligned with my research and mentoring efforts. It has given me the opportunity to expand some of the work that I am doing related to health equity to other groups in the department and also to increase visibility of our department's DEI efforts.
What does diversity and inclusion mean to you?
Diversity and inclusion means having a space where all feel welcomed, free, and supported to be themselves in the academic setting, but also to extend that same right to everyone we come in contact with including trainees, staff, and patients.
Why is it important for McGovern Medical School to have these positions?
In order for us to represent the city we serve we must embrace and uplift efforts to maintain a diverse and inclusive environment in order to achieve health equity for our population.
What are some of your duties and responsibilities as a vice chair?
I participate in leading our DEI council along with our other vice-chair; lead various council initiatives; oversee activities of our DEI task force; meet with the chair quarterly and present DEI updates at leadership and faculty meetings; and participate in the recruitment, hiring, and retention activities for trainees and faculty.
What is your department currently doing to help create a culture of diversity and inclusion at the Medical School?
Our department has engaged in several efforts to support diversity and inclusion including 1) curriculum development for residents and faculty; 2) social activities to support diversity and inclusion; 3) engaging in health equity research; 4) engaging in quality improvement initiatives to support health equity; 5) creating a staff DEI task force; 6) engaging in a language equity initiative to support the provision of health-related information to patients in a language they understand.
Who in your department is helping you to implement your initiatives?
We have two DEI vice chairs; a large, active DEI council; and a DEI Staff Task Force. Our chair is very supportive and has provided a budget for our initiatives.
What does your department hope to do in the future to continue building on that culture?
We plan to build on the current work, offer DEI training for our leadership and team members, establish a regular health equity curriculum, and establish a health equity research collaborative.
What has been the biggest challenge you have faced in beginning this initiative?
Time
How have your colleagues, both in your department and around the Medical School, received your initiatives for diversity and inclusion?
All have been very well received by others.
---