Ray, Sharrief win McGovern DEI Awards
---
---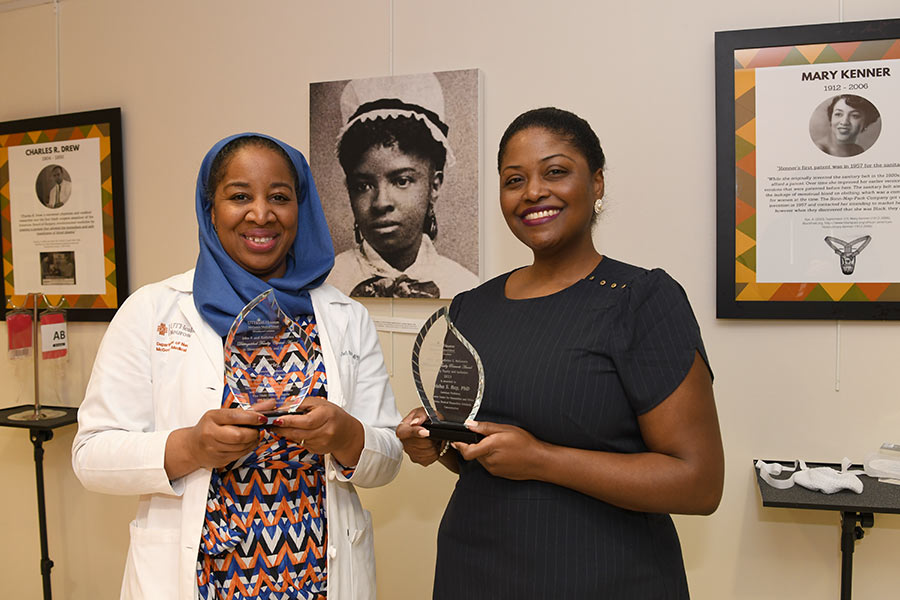 The Office of Diversity and Inclusion selected Keisha Ray, PhD, and Anjail Sharrief, MD, as the 2023 winners of the John P. and Kathrine G. McGovern Distinguished Faculty Awards in Diversity, Equity, and Inclusion (DEI).
The Distinguished Faculty Award in DEI recognizes individuals whose exceptional effort exemplifies the Medical School's commitment to fostering the recruitment, nurturing, retention, and academic success of a diverse student body, trainees, staff, and faculty that is reflective of the community they serve.
Criteria for the award includes, but is not limited to, an overall teaching approach and/or specific teaching practices that amplify diverse perspectives and foster an equitable learning environment; mentorship responsive to the needs of students, trainees, and colleagues; publications or research, conference presentations, and or invited talks focused on DEI; community building, engagement, or external educational initiatives that promote DEI; and meaningful contribution to department or institution.
Keisha Ray, PhD
Ray, an assistant professor in the McGovern Center for Humanities and Ethics and director of the Medical Humanities Scholarly Concentration is the winner of the John P. and Kathrine G. McGovern Distinguished Faculty Research Award in Diversity, Equity, and Inclusion.
"It is a great honor to receive this award from UTHealth Houston and my colleagues," Ray said. "This award acknowledges the value of diversity, equity, and inclusion to our community and that my efforts to be an exemplar in this area have not gone unnoticed. This award renews my dedication to the type of teaching and scholarship that embraces diversity and inclusion, and centers it, rather than make it an afterthought."
Ray's work focuses on the social, political, and cultural determinants of Black people's health, integrating race education into medical school curricula, and the ethics of biomedical enhancement. She has contributed to peer-reviewed journals like the Journal of Medical Humanities and Pediatrics, as well as edited volumes and textbooks. She currently has a monograph in progress on Black people's health contracted with Oxford University Press and also serves as an associate of the American Journal of Bioethics blog site to which she is a regular contributor.
Ray earned her PhD in philosophy from the University of Utah before completing postdoctoral fellowships with the McGovern Center and the Center for Bioethics and Humanities at the University of South Carolina. Ray returned to the Medical School as an assistant professor in 2019.
Anjail Sharrief, MD
Sharrief, associate professor in the Department of Neurology, and director of Stroke Prevention and the Stroke Transitions Education and Prevention Program, is the winner of the John P. and Kathrine G. McGovern Distinguished Faculty Clinical Award in Diversity, Equity, and Inclusion.
"It is truly an honor to be a recipient of this award. I feel blessed to receive such an honor for work that is so fulfilling and that I love to do," Sharrief said. "I appreciate my family, stroke prevention team, collaborators, mentors, and mentees for how much they have contributed to this work, and thank the patients and communities that inspire my passion for research and clinical care."
Sharrief's research focuses on addressing health disparities and health outcomes in stroke survivors. She also is passionate about mentoring undergraduates, medical students, and residents to pursue academic careers in the neurosciences. She founded the Stroke Transitions Education and Prevention Program in 2014 and is the vice chair for diversity and inclusion in the Department of Neurology.
Sharrief received her medical degree from Columbia University College of Physicians and Surgeons in New York and a masters in public health from Johns Hopkins Bloomberg School of Public Health in Baltimore. She completed a neurology residency at Johns Hopkins in 2011 where she served as chief resident from 2010-11.
---