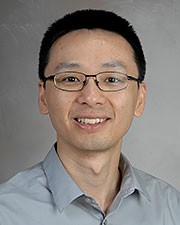 Assistant Professor
CPRIT Scholar, Cancer Prevention Research Institute of Texas
Education
PhD

Chinese Academy of Sciences

Postdoctoral Fellow

Stanford University

Postdoctoral Fellow

The University of Texas MD Anderson Cancer Center
Areas of Interests
Research Interests
Bioinformatics, Next-Generation Sequencing, Cancer Genomics
Research Information
Our lab utilized the high-throughput technologies to dissect the molecular mechanism in complex diseases. We are interested on exciting topics but not limited to:
Integrative Analysis of Complex Diseases
Recent advances in genomic technologies and the ensuing deluge of genomic information related to cancer have accelerated the convergence of discovery science with clinical medicine. Successful translations of genomics into therapeutics and diagnostics reinforce its potential for personalizing medicine. For example, as one of the most important cancer genomic data resources, the Cancer Genome Atlas (TCGA) is a comprehensive and coordinated effort to accelerate our understanding of the molecular basis of cancer through the application of genome analysis technologies (Han et al., Cancer Cell, 2015; Han et al., Nature Communications, 2014; TCGA, Nature Genetics, 2013). We also interested in other complex diseases, such as stem cells (Wang et al., Cell Stem Cell, 2014; Wang et al., Cell Stem Cell, 2013), cardiovascular diseases (Dey*, Han* et al., Circulation Research, 2013; Lan et al., Cell Stem Cell, 2013), psychiatric diseases (Luo*, Huang*, Han* et al., Schizophrenia Bulletin, 2014), etc.
High-throughput Data Mining
High-throughput technologies have greatly improved our ability to evaluate the molecular changes that occur during various biological processes. With the development of next-generation sequencing, our understanding has been advanced through the use of a variety of platforms: methy-seq, ChIP-seq, exome-seq and RNA-seq. The large amount of publicly available next-generation sequencing data, such as datasets from TCGA and ENCODE, has created enormous opportunities for researchers to conduct genomic analysis beyond the traditional sequencing analysis. Transforming genomic information into biomedical and biological knowledge requires creative and innovative computational methods for all aspects of genomics. Therefore, the research in my lab will focus on computational analysis from genomic sequences to other post-genomic data, including both DNA and RNA sequences, protein profiling, and epigenetic profiling, in an ongoing effort to find hidden treasures (Han et al., Briefings in Bioinformatics, 2014; Samuels*, Han* et al., Trends in Genetics, 2013).