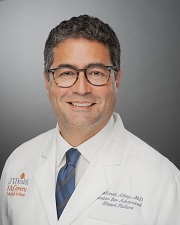 Mehmet Hakan Akay, MD, FACS
Associate Professor, McGovern Medical School
Cardiovascular and Thoracic Surgeon, Advanced Heart Failure and Transplantation
Contact
Biography
Dr. Mehmet Akay was born in the Mediterranean province of Turkey. Because of his father, at such a young age Mehmet was introduced and involved in medicine in which he decided that he would become a Cardiovascular Surgeon. He attended The University of İstanbul Cerrahpasa as part of the medical faculty. Upon receiving his Medical Doctor title in 1992, he immediately started his Cardiovascular Surgery residency at the most respected and oldest heart surgery center in İstanbul where twelve open heart procedures were done on a daily basis.
Upon completing his Cardiovascular surgery training Dr. Akay made his way to the United States and landed in Texas at The Texas Heart Institute as a non-accredited foreign fellow in 1998. He was awarded the outstanding fellow award and carried his fellowship to Congenital Heart Surgery at The Texas Children's Hospital. He restarted his entire training with the encouragement of Dr. Charles D. Fraser. He then completed his general surgery training at Baylor College of Medicine Michael E. DeBakey in the department of Surgery and was awarded the Outstanding Chief Resident during his fellowship. He continued his training at Texas Heart Institute with Dr. Denton A. Cooley. In 2008, he completed his Thoracic Surgery training then went on to the Mechanical Circulatory Support and Heart Transplantation fellowship. He worked with Dr. O. H. Frazier until 2011, where he decided to go back to Turkey for a year at Acibadem University as part of the medical faculty in İstanbul. Then in 2013, he returned to Houston as part of the Surgery Faculty at the UT Health McGovern Medical School in the Department of Advanced Cardiopulmonary Therapies and Transplantation at Memorial Hermann Hospital. Currently, he is an Associate Professor and practices General Cardiac Surgery, Mechanical Circulatory Support, Heart and Lung Transplantation, and Minimal Invasive Cardiac Surgery.
He is married to Dr. Catherine L. Akay and has 3 kids, Aleyna Defne, Benan Irfan and Elanur Sofya. Dr. Akay and his family love watching soccer and traveling as a family.
Education
Medical Education

University of Istanbul, Cerrahpasa Medical School

Residency

Baylor College of Medicine

General Surgery

Michael E. Debakey, Department of Surgery, 2006

Thoracic Surgery

Texas Heart Institute , 2008

Fellowship

Heart Transplant and Mechanical Circulatory Support , Texas Heart Institute, 2010
Areas of Interest
Clinical Interests
Heart transplant, mechanical circulatory
support, minimally invasive valve surgery, robotic surgery