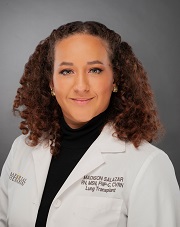 Madison Salazar, RN, MSN, FNP-C, CVRN
Biography
Madison Salazar earned her bachelor's degree in nursing from the University of Texas Health & Science Houston (UTHSCH) in 2016. She started her nursing journey at Memorial Hermann's Heart and Vascular Institute with a focus on advanced pulmonary and cardiac surgery patient management.
 She further expanded her professional credentials in the field by obtaining her Cardiovascular Nursing Board Certification from the American Board of Cardiovascular Medicine. She pursued her Masters in Nursing with a specialty in Family Practice at UTHSC and graduated summa cum laude. She is board certified with the American Academy of Nurse Practitioners.
 She joined the lung transplant program at Memorial Hermann Hospital TMC in September of 2020 as a lung transplant coordinator. Her clinical focus is the management of patients with chronic lung disease and lung transplant recipients.
 Madison's practice philosophy is to provide personalized holistic management of patients with severe lung diseases, specifically Hispanic patients due to her cultural background and fluency in Spanish.
 A native Houstonian, Madison enjoys spending her free time with her two boys, husband, and fur family. She enjoys hiking, traveling, and playing soccer & basketball.