Safi named president-elect of Texas Surgical Society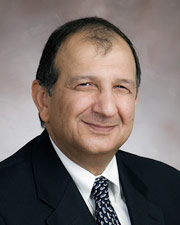 The Texas Surgical Society (TSS) has named Dr. Hazim Safi as president-elect. Safi is professor and chair of the Department of Cardiothoracic and Vascular Surgery.
Elected by his peers at the society's fall meeting, Safi will officially become the organization's 97th president at its spring 2015 meeting in Galveston.
"Being selected by my colleagues as president of the TSS is a special honor that I will treasure for a lifetime," said Safi, who is chief of Cardiothoracic and Vascular Surgery at Memorial Hermann Heart & Vascular Institute-Texas Medical Center. "I'm humbled to lead an organization comprised of so many talented and respected surgeons."
Safi joined the McGovern Medical School in 1999. His research and clinical interest is complex aortic surgery and he has made key contributions, including studies of multiple organ protection during aortic surgery and development of protocols, many of which have been adopted around the world.
He is a fellow of the American College of Surgery, Society of Thoracic Surgeons, American College of Chest Physicians and American College of Cardiology. He received the Michael E. DeBakey Excellence in Research Award in 1998.
Founded in 1915, the TSS strives for stimulation and improvement of the science and art of surgery and elevation of the standards of the practice of medicine.