Dr. Safi honored by the Academy of Athens
---
---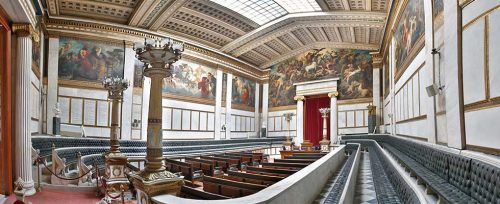 On Tuesday, November 7th, 2017 the Academy of Athens, the highest seat of honor for intellectual and cultural academies in Greece, inducted Dr. Hazim Safi, professor, chairman, and chief of department of Cardiothoracic and Vascular Surgery at McGovern Medical School at UTHealth as a corresponding member of Academy's First Section.
The Academy of Athens is an academic extension inspired by Plato's Academy in Ancient Greece founded in the early 4th century BC. Plato's Academy located in Athens operated until 529 AD where it was then banned by imperial decree. Since its foundation in 1926, the modern day Academy of Athens continues to promote Plato's mission of advocating advancements in sciences, humanities, and fine arts at both national and international platforms. Once in every four years, the Academy presents its most prestigious Medal of Honor to recognize outstanding scientists, literary personalities, musicians, composers, painters, architects, and humanitarians for excellence in their respective field. Not surprisingly, Dr. Safi was chosen by the Academy as a representative of such level of scientific esteem.
With over forty-seven years of experience, Dr. Safi is distinguished for his surgical excellence; board certified in surgery, vascular surgery and thoracic surgery, Dr. Safi specializes in cardiothoracic surgery, aortic surgery, thoracoabdominal aortic aneurysms and vascular surgery. His clinical interest and most significant legacy gaining him international recognition include his advancement and research in the field of advanced aortic aneurysm interventions and repair. The surgical technique for open thoracoabdominal repair, described by Dr. Safi, have been incorporated into practice by aortic surgeons all around the world. In addition to practicing medicine and caring for patients, he has published a book, has written 26 special chapters in books, and has published 250 original papers in prestigious and renowned magazines with over 13,000 bibliographic references. He is a member of 20 American and international science and college societies including the American College of Surgeons, and the Royal College of Surgeons of England.
Earlier this year, Dr. Safi was nominated by Dr. Grigorios Skalkes, the Founder and President of the board of trustees of Biomedical Research Foundation of the Academy of Athens. Following the rigorous official process of evaluation, he was elected by the academic committee of First (Sciences) Section as a foreign associate member. Lucas Demetrios Papademos, the former Greek Prime Minister and residing president of the Academy, addressed the induction reception held on Tuesday welcoming Dr. Safi into the Academy. At the ceremony, Dr. Skalkias formally introduced Dr. Safi to the fellow Academicians as he apprised them of his remarkable clinical achievements and scientific contributions. Only 36 international members have been honored which has included Alexander Fleming, Max Plank, Eric Kandel, Albert Einstein, Michael Debakey.
Dr. Safi, as a newly inducted Athenian academician, humbly thanked the Academy during his key note address on "Complex aortic repair: Lessons from the past and outlook for the future".
Dr. Safi's unparalleled accolades and humility, makes the UTHealth System truly proud!
---