Life-saving surgery allows college-bound teen to finish basketball career on his own terms, with Dr. Kristofer Charlton-Ouw
---
---
Read original, full article on Memorial Hermann, Everyday Well. Original article by Meredith Whittemore.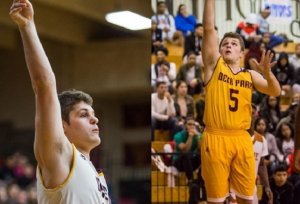 Kristofer Charlton-Ouw, MD, associate professor of vascular surgery at McGovern Medical School at The University of Texas Health Science Center at Houston (UTHealth),  was recently featured in the patient success story covered by Memorial Hermann Hospital, where he treated patient Garrett Pineault's rare condition of Thoracic Outlet Syndrome (TOS).  The story, published in late June 2019, highlights Garrett's experience with TOS during his senior year at Deer Park High School.  Garrett was a varsity men's basketball player when he began to experience frequent and persistent shoulder pain, which Charlton-Ouw later identified as one of the three variations of TOS.
As discussed in the article, by Meredith Whittemore, Dr. Charlton-ouw, affiliated with Memorial Hermann Hospital – Texas Medical Center mentions, "There are three main types of TOS depending on what structure is being compressed. Each type causes a different set of symptoms."  In addition to discovering that he had an extra cervical rib, Garrett's dedication to the sport of basketball and the repetitive shoulder movement from basketball practice and games caused him discomfort.  "In Garrett's case, the cervical rib compressing his right subclavian vein and causing the clot is also known as effort thrombosis or Paget-Schroetter Syndrome. The vein clot prevents blood from flowing out of the arm and leads to swelling and pain," says Charlton-Ouw.
Determined to finish his senior year playing the sport he's loved for over a decade, Garrett was treated by Dr. Charlton-Ouw at Memorial Hermann Hospital – Texas Medical Center.  Garrett mentions he only had to miss a few games over the winter 2019 basketball season. Garrett will be attending Texas A&M University in the fall of 2019 where basketball recreation and intramural teams will be available for him to continue playing.
Read Garrett's full story featured on Everyday Well by Memorial Hermann, piece by Meredith Whittemore. 
To learn more about TOS, visit our Thoracic Outlet Conditions Page, and for any questions or concerns, please contact Dr. Charlton-Ouw's office: 713-486-5100, or email: info.ctvs@uth.tmc.edu.
You can watch Dr. Charlton-Ouw on FOX26 morning news discussing Thoracic Outlet Syndrome by clicking here.
---