Abreu reflects on his first year as Faculty with Cardiothoracic Surgery
---
---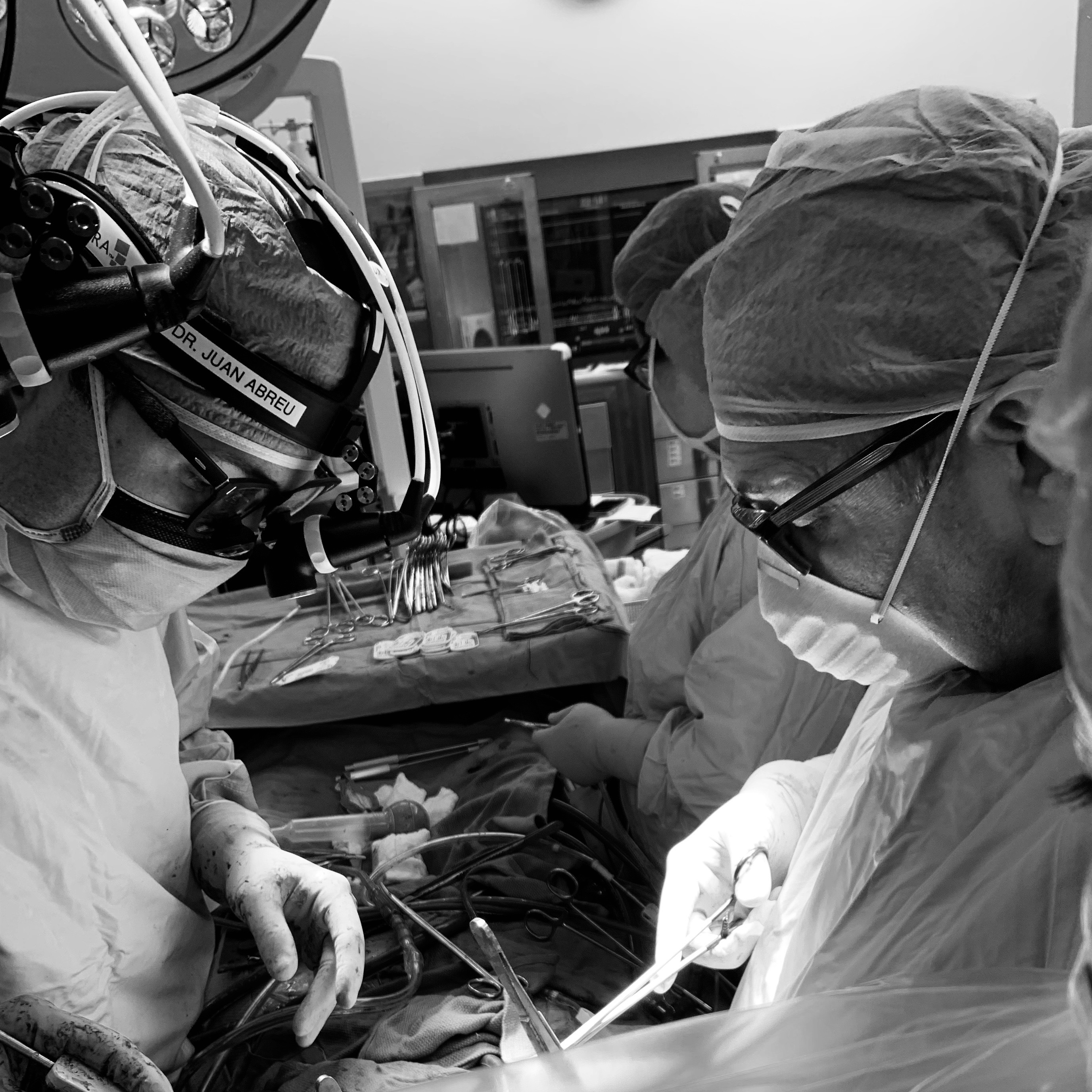 Upon the successful completion of his Thoracic Surgery Fellowship training in July 2019, Juan Abreu, MD, joined our team as Assistant Professor of Cardiothoracic Surgery at McGovern Medical School at UTHealth. 2020 has proven to be a challenging year for everyone, especially for healthcare workers.  Abreu, originally from Dominican Republic, has remained steadfast and committed to his career in academic medicine, practicing primarily at Memorial Hermann Memorial City Hospital.
We interviewed Abreu to discuss his thoracic surgery fellowship training, a program offered by the collaborative efforts of UTHealth and The University of Texas MD Anderson Cancer Center (MDA), and reflected on his first year on staff with UTHealth.
Why did you choose the UTH/MDA CT Fellowship Program?
The main reason I applied to the UTHealth/MDA program, was the strong reputation of each of the training hospitals. Historically, Memorial Hermann and UTHealth have a well-established name and presence for their work in cardiac and aortic surgery, and MDA is continuously ranked number one for thoracic oncology. I knew that if I did my training with this program, I would be working with some of the most skilled and well-known surgeons in the world. My final decision was ultimately based on case volume.  Being in such a large city like Houston, I knew I would have exposure to a wide variety of conditions, surgical cases, and learning experiences.
How did you decide on cardiothoracic surgery as a specialty?
I really enjoyed taking care of ICU patients; I feel that is where we as care-providers can do the most good and really save a life. I knew that I wanted to work in a specialty that was challenging, evolving and exciting. To me, those three components in a medical specialty really has only one answer: CT surgery.
What do you enjoy most about CT surgery?
Operating!  I could be in the OR all day, every day. It is incredibly rewarding to plan an operation, execute it, and then see the results. There is a sense of gratification knowing that the work I am doing improves lives, and that the techniques I have trained so long to learn are actually working and make a difference.
Working on any research?
Yes, I am interested in surgical education, and clinical outcomes in high risk patient populations.
COVID caught us all off guard and shifted any prior sense of normalcy. What has that been like for you as a new surgeon?
Since the COVID-19 outbreak in the U.S., it has been very interesting seeing such a decrease in overall surgery volume, although we still have seen a similar and steady number of emergent cases. When I work on-call, there has not been a major change, but when not on call, I've had some extra free-time, where I have been able to organize my research and study for the boards!
You've been faculty for one year. What do you think so far?
Being on faculty, working as an attending has been a great learning experience.  There are little details I've picked up on, and recognize all physicians learn on-the-go as they mature as surgeons. I am very happy with the support I have received from senior faculty and my partners. So far, it has been great.
What do you look forward to in the years ahead?
Being a part of an academic institution, I'm excited to play a more critical role in education and the development of our students, residents, and fellows at McGovern Medical School.  As I continue on in my surgical career, I look forward to developing new skills, learning advanced techniques, and bringing effective and innovative technology to the city.  Surgery is always a team effort, so I also, am of course looking forward to the continued growth and success of our department.
---